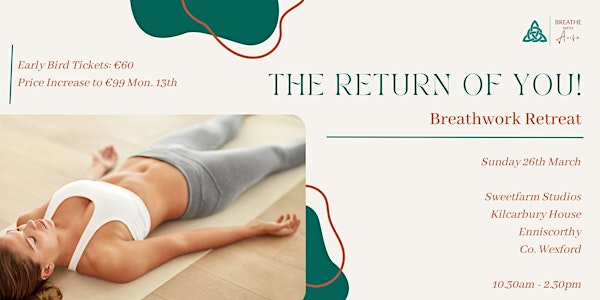 The Return of YOU ⚡Breathwork Retreat
In-Person Breathwork Event Supporting you in Returning to the Truest Version Of YOU! ⚡ Gaining: Clarity, Purpose, Focus and so Much More
Date and time
Sun, 26 Mar 2023 10:30 - 14:30 IST
Location
Sweetfarm Studios Kilcarbury House Enniscorthy Ireland
About this event
THE RETURN OF YOU!
-DAY RETREAT-
This 4-hour day retreat will support you in Returning to the Truest, Clearest, Highest Version of YOU!
This Retreat Is For You If;
You want to progress your self-development journey further
You're not sure what your next direction is in your life / feeling a little lost
You experience brain fog + a lack of clarity in decisions in your personal or professional life
You are highly critical of yourself and struggle with self-compassion
You struggle with self-confidence
You doubt yourself + your abilities
You want to release the past
You experience negative thought patterns that may block you from achieving your goals
You experience fear or anxiety
You need to release limiting beliefs you (or others) have about your potential
You want to get closer to your intuition/gut
You self-sabotage
You over-analyse and worry about things in your life
What's Included In This Retreat?
Some thought-provoking journaling questions
A Printed Workbook/Guide
Cacao Ceremony + Card Pulling
Intention Setting for The Breathwork Journey
EFT Tapping: Emotional Freedom Techniques to help you get out of your head + into your body/soul guided by guest practitioner
Introduction to Breathwork
Demo on Shorter Breathing Exercises that you can use anywhere after the retreat
Grounding Meditation
90 minute Breathwork Journey guided by me
Confidential Sharing Circle
Final Journaling + Integration Tips
More Info. To Follow
Contact Me at
-hello@breathewithaoife.com
-087 4293240
-@breathewithaoife (Instagram)