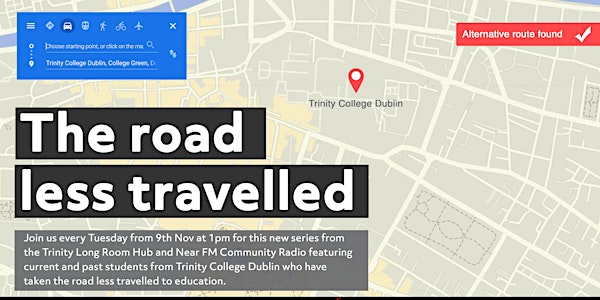 The Road Less Travelled - Patricia Stapleton
The Road Less Travelled is a new series from the Trinity Long Room Hub and Near FM Radio
About this event
In our fourth live recording of 'The Road Less Travelled', Senator Lynn Ruane will speak to Dr Patricia Stapleton, Administrative Officer, School of Histories and Humanities at Trinity College Dublin about her return to education as a mature student and as the first student through Trinity's Access Programme to achieve a PhD.
Patricia was conferred with her PhD in history in July 2008, ten years after first starting in Trinity College as a mature access student. Having left school at age 16, Patricia worked in various administrative and sales positions until she started a family. She decided to return to work when her youngest was three years old and after completing the 'Back to Education' course run by the Larkin Unemployment Centre on the North Strand and subsequently to a foundation course with the Trinity Access Programme. She now works in Trinity's School of Histories and Humanities.
The Road Less Travelled is a new series from the Trinity Long Room Hub and Near FM Radio featuring current and past students from Trinity College Dublin who have taken the road less travelled to education. We meet men and women from all walks of life who have overcome social barriers and surpassed prejudice and discrimination—all for the opportunity to study at third level and in Trinity's Arts and Humanities.In this series, we celebrate different experiences in education, meeting fascinating people with unique life stories.
Join us on a weekly basis through our livestream on Tuesdays at 1pm.
This talk will be subsequently broadcast on Near FM. You can listen to Near FM online www.nearfm.ie/livestream or on 90.3FM.
Coming up next:
Daryl Hendley Rooney in conversation with Professor Jane Ohlmeyer; Patrick McDonagh in conversation with Sarah Grimson.
Acknowledgements:
The Road Less Travelled radio series is produced by Trinity Long Room Hub and Near FM with the support of the Broadcasting Authority of Ireland through the television licence fee.
The Trinity Long Room Hub would like to thank Trinity's Access Programme (TAP) for their assistance in relation to the series.