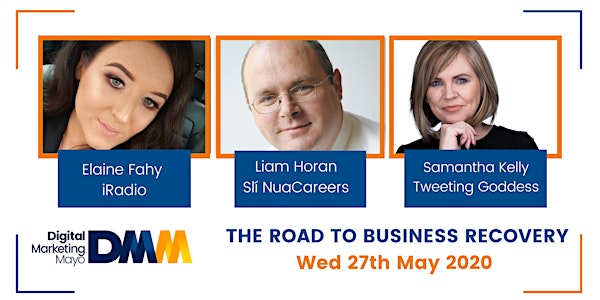 The Road To Business Recovery
An online event that will look at the difficulties businesses are facing during Covid 19 & how they can start on The Road To Recovery
About this event
We have 3 amazing speakers lined up for you!
Elaine Fahy - Senior Multi-Media & Radio Sales Specialist with iRadio her career spans Lifestyle Magazines, Print, Digital, Media and Radio.
Liam Horan - proprietor of Sli Nua Careers, one of Ireland's leading career training agencies & more recently The Horan Stand, an interactive online venue.
Samantha Kelly - Twitter expert, author, community builder and founder of the Women's Inspire Network
Our 3 speakers will discuss
👉Challenges facing businesses in this unprecedented time
👉Utilizing digital technologies for your business
👉How to build and grow a loyal online audience
This is a free event but registration is essential