The Sailortown StreetSpace Community Workshop 2021
The StreetSpace workshop is back, this time in Sailortown.
About this event
After the success of the previous StreetSpace workshops in Belfast City Hall and abroad, we are delighted to repeat, focusing this time on the memorable and wonderful Sailortown neighbourhood. Our symposium in November hosted about 60 participants from different disciplines, backgrounds and parts of the world. We hope to welcome as many of them as possible in person and online in this two day workshop.
This workshop will reveal the complexity Sailortown. We will explore people's experiences, memories and histories and create maps and drawings to reflect these. We will also investigate the potential of these streets to provide fair, accessible and diverse places for people. This workshop is based on the one year live project carried out by students of the Masters of Architecture, in collaboration with Sailortown Regeneration, Department for Communities, Belfast City Council, Anthropology at QUB, the Sailortown community, the Heritage Hub and Household. We will develop a series of activities that will help us see the potential of new and existing buildings in Sailortown to provide significant and valuable spaces for the Sailortown community.
The workshop will be held in St Joseph's Church, a landmark of Belfast's histories and memories and a place brought back to life by Sailortown Regeneration.
Places are limited, but the event is free and open to all. RSVP is mandatory for catering purposes.
If you want to attend the Workshop please sign up to this Eventbrite page or contact Dr Agustina Martire : a.martire@qub.ac.uk
Schedule:
Friday 18 June
9.00 – Registration
9.30 – Launch - Ciaran Donnelly (DfC)
9.45 – Introduction - Agustina Martire (QUB)
9.55 – 7 minute presentations
Terry McKeown (Sailrtown Regenaration)
Sean O'Connell (QUB)
Mike McQueen - Jordan Beattie (UU)
John Eversley (QUB)
Olaf Hvattum (Cohousing Connections)
Mark Hackett (Ashton North Belfast)
11.00 – Walkabout
12.00 noon – Presentation of groups and brief discussion
5 groups – 5 maps
-Housing – led by Aisling Madden
-Children – led by Aisha Holmes
-Culture – led by Hannah Miskimmon
-Public space – led by Jonny Yau
-Work and industry – led by Juliette Moore/Ciaran Gormley
1.00pm – lunch – catering provided by: Benny's
2.00pm – 4.00pm – work
Saturday 19th June
9.00am – 12.00 – work – finish maps and drawings
12.00noon – each group presents
1.00pm – Lunch - catering provided by: Benny's
2.00pm – Armagh Rhymers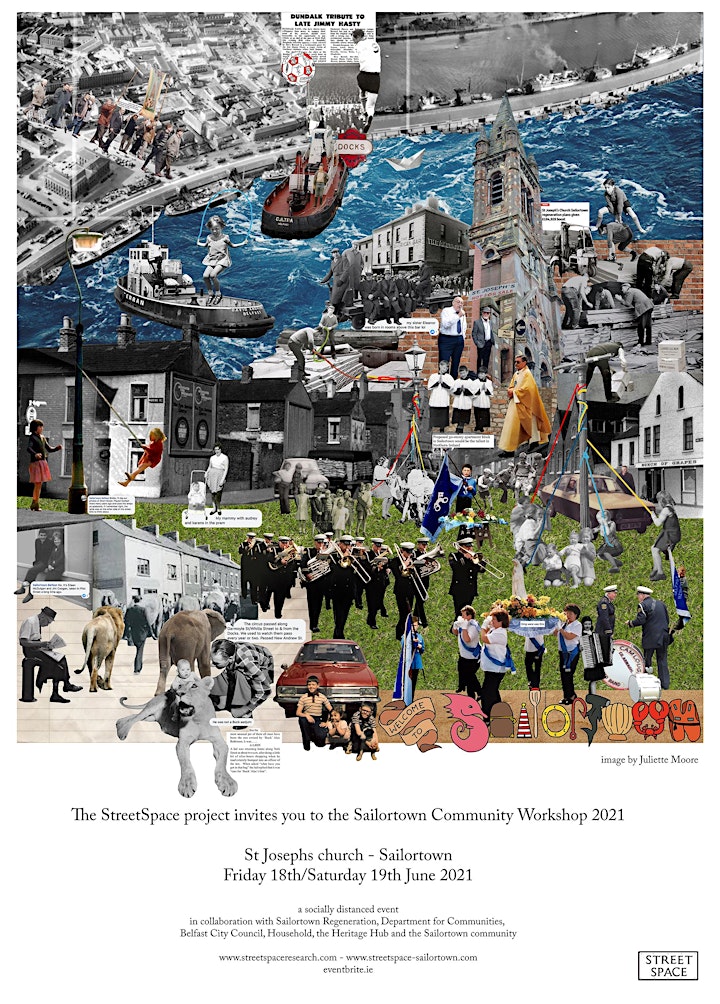 Organiser of The Sailortown StreetSpace Community Workshop 2021
StreetSpace is a research and teaching project at Queen's University Belfast. The project is led by Dr Agustina Martire, lecturer in Architecture. 
The project investigates the significance of local mixed use streets through their urban form, histories and experiences. It challenges the accepted urban analysis of built environment disciplines by establishing links with other disciplines involved in the study of the urban environment. The project also seeks to enable the dialogue between academia, policy and the public thorough the organisation of local workshops. 
This multidisciplinary and international project aims to provide and alternative way of planning and developing mixed use streets in the UK. The project began in 2011 with the graphic analysis of streets in plan and section. Now it has evolved to include different types of analysis coming from dicverse disciplines. The project went through a process of experimentation,  in Belfast, Buenos Aires, Edinburgh and Kilkenny.  This exercise has enhanced local student's understanding of the role of streets in the urban landscape while building a critical mass of examples to inform the analysis.
The StreetSpace project is underway through an interdisciplinary reading group and taught modules in the Masters in Architecture. After workshops in Belfast, Buenos Aires, Edinburgh, Kilkenny, London, Naples and Ljubljana there are plans for further work in Lisbon in October 2019.
Videos:
https://www.youtube.com/channel/UC7Aq2uG1sZ7GDms3UUdLvmg
https://www.youtube.com/watch?v=pGZehUQhAsM
https://www.youtube.com/watch?v=IlliZdhj-JA