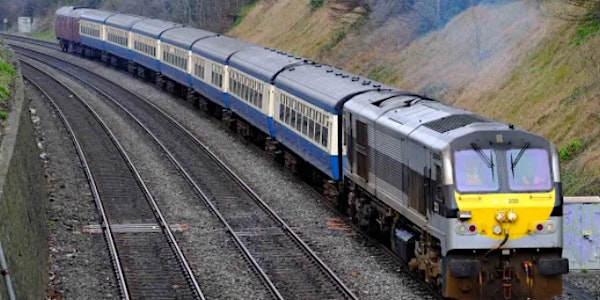 "The Sligo Leitrim" - Diesel Railtour
Heritage Diesel Railtour Connolly-M3 Parkwary-Docklands-Sligo-Broombridge - Newcomen Jct - Connolly (7) Grand Canal (2) -Dublin Connolly
By Railway Preservation Society of Ireland
Date and time
Sat, 22 Apr 2023 08:10 - 20:30 IST
Location
Connolly Station 1 Amiens Street 1 Dublin Ireland
About this event
Saturday 22nd April 2023
The Railway Preservation Society of Ireland is delighted to announce "The Sligo Leitrim" Diesel Railtour.
This is the FIRST 201 loco hauled train to Sligo & the FIRST to M3 Parkway.
The tour will depart from Dublin Connolly and proceed towards Maynooth, however at Clonsilla we will swing right to take the old line towards Navan, passing through Hansfield (photo), Dunboyne and into M3 Parkway where our 201 loco will ubhook.
We will then proceed Docklands with an 071 Class loco. From Docklands we will depart to Sligo with our 201 loco throughout. Beyond Longford it will be the FIRST 201 class loco hauling a passenger train ever. At Sligo we will have 90 minutes break to enjoy the delights of Sligo, the capital of the North West.
We will then depart Sligo for an historic FIRST EVER 201 class locomotive departure from Sligo. We will have photo stops on our way up to Dublin.
BUT, It doesn't end there. On approach to Dublin, we will swing right at Glasnevin and take the MGWR line towards Dublin, we will then take the Newcomen Curve towards platform 7 in Connolly. This again will be a FIRST for a 201 class loco hauled passenger train to take Newcomen curve.
The tour will then proceed across the Loop Line Bridge through the centre of Dublin via Tara Street, Pearse and then into Grand Canal Dock Platform 2. This will be the FIRST loco hauled train into the "new" platform 2 / "Bay Platform" at GCD.
After all of that excitement, we have arranged for an 071 Class to take the FIRST EVER 071 out of Grand Canal Dock Platform 2 back to Dublin Connolly where the tour will terminate.
As with previous diesel railtours this one is sure to very popular and will sell out quickly so don't delay and get your booking in as soon as possible.
The train will be made up of our Cravens coaching stock complete with usual facilities of snack car serving a variety of hot and cold items throughout the day alongside our renowned bar car with draught and bottled beverages available all day. We now accept debit / credit cards on board as well as cash payments.
Route:
DUBLIN CONNOLLY - BROOMBRIDGE (PICK UP) - CLONSILLA - M3 PARKWAY (REVERSE) - DUNBOYNE - PELLETSTOWN - DOCKLANDS (REVERSE)- BROOMBRIDGE (PICKUP) - LONGFORD - SLIGO (REVERSE)- EDGEWORTHSTOWN - BROOMBRIDGE (SET DOWN) - CROKE PARK MGWR - NEWCOMEN JUNCTION - DUBLIN CONNOLLY (PLATFORM 7) - TARA STREET - GRAND CANAL DOCK PLATFORM 2 (REVERSE) - TARA STREET - DUBLIN CONNOLLY.
Requested haulage - IÉ 201 Class locomotive hauling the RPSI Cravens carriages. An 071 Class will haul the tour from M3 Parkway - Docklands and Grand Canal Dock to Connolly,
N.B. IMPORTANT INFORMATION RE: ONLINE TICKETS
Tickets are NON-REFUNDABLE once purchased.
If travelling as part of a group - you MUST make one booking to be seated together. Seating requests cannot be made after.
You will receive your tickets by email as soon as your booking goes through. These are you tickets which you must print off or have QR code available for inspection on the day.
Seating allocations will be emailed, no later than 2 days before departure. Please check your emails.
Children aged 2 and under can travel free of charge on their parent's lap.
Child Tickets are valid for 3 - 15 year old's inclusive.
We have seats for sale in the carriage opposite the guards van and in the bar carriage for the day. Please note that these are ONLY available as adult tickets.
About the organiser
Railway Preservation Society of Ireland