The Social Sciences in Ireland: Status, Challenges, and Prospects

Thursday, 2 October 2014 from 09:30 to 17:00 (IST)
Event Details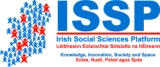 The Social Sciences in Ireland:
Status, Challenges, and Prospects
9.45-5pm, Renehan Hall, NUI Maynooth, County Kildare
Thursday 2nd October 2014
*Admission is free but registration is essential*
From 9.45

Registration (Tea/Coffee on arrival)

10.10

Welcome and overview

Professor Philip Nolan, President Maynooth University and Professor Mark Boyle, Maynooth University

PRTLI 4 and the ISSP: The Legacy

Chair: Dr. Carmel Hannan, University Limerick

10.30

PRTLI 4 and the ISSP: A brief history

Professor Rob Kitchin, Maynooth University and former Chair ISSP

10.50

The principal innovations and legacies

Professor Fred Powell, University College Cork

11.10

Building data infrastructures

Dr. Jane Gray, Maynooth University

11.30

Investing in people

biographical accounts by Dr. Clive Earls, University Limerick/Maynooth University; Dr. Trish Morgan, Dublin City University/Maynooth University; and Dr. Majella Giblin, University Galway/Trinity College Dublin

12.00

Lunch

IRC led Workshop: Horizon 2020 – Creating opportunities for Social Scientists

1.00

Shaping Horizon 2020: An interactive workshop

led by Mr. Paul Kilkenny, Irish Research Council and Dr. Allen White,

University College Cork

2.50

Tea/Coffee

Prospects for the Social Sciences in Ireland

Chair: Professor Richard Layte, Trinity College Dublin

3.05

Introduction

: Professor Bernard Mahon, Maynooth University




Address: Minister for Skills, Research, and Education, Damien English TD

3.20

Social Science research in Ireland: The view from the Irish Research Council

Dr. Eucharia Meehan, Director Irish Research Council

3.35

Collaborating for success? The Irish Social Sciences Platform

Dr. Linda Connolly, University College Cork, and Chair ISSP

Panel Discussion

- Prospects for the Social Sciences in Ireland

Chair: Professor Pat O'Connor, University Limerck

3.50

Panelists:

Dr. James Cunningham, University Galway; Dr. Carmel Hannan, University Limerick; Dr. Perry Share, Sligo IT; Professor Seán Ó Riain, Maynooth University; Professor Caroline Fennell, University College Cork; Professor Sally Shortall, Queen's University Belfast; and Professor Colin Scott, University College Dublin

5.10

Close
 *If you wish to attend this workshop, please send a 100 word summary of your research interests to issplatform@nuim.ie (please put 100 WORDS in subject matter on your email and format as Times New Roman font size 12, thank you). This is essential to allow organisers to customise the workshop to your needs.

CALL NOW CLOSED
 FOR TRAVEL BURSARIES  
to attend the IRC led Horizon 2020 Workshop – Creating opportunities for Social Scientists

SPONSORED BY THE IRC  &  CO-ORDINATED BY THE ISSP   
Opportunity to attend a workshop on how EU Work Programmes are designed/shaped and avail of an opportunity to shape the content of the 2016/2017 Work Programme for Societal Challenge 6 and input topics of interest to social scientists in Ireland
Deadline for Applications for travel bursaries: 15th August 2014  
Application form and further details available from issplatform@nuim.ie. Note: Application forms for travel bursaries will be sent to all upon registration so please ensure you register asap

The aim of the workshop is to encourage and empower researchers at all career stages in the social sciences to apply to future Horizon 2020 funding as partners or co-ordinators; to collaborate and network with social science researchers in other Irish institutions; and to provide national contact points for EU research with suggestions for research themes and topics that Irish social scientists would like to see included in future Work Programmes.
The relevant documentation concerning the 2016-17 HORIZON 2020 draft work programmes will be circulated in advance.

The workshop will be held at NUI Maynooth on 2nd October 2014 as part of the ISSP conference: 
 'The Social Sciences in Ireland: Status, Challenges, and Prospects' 
An Irish Social Sciences Platform (ISSP) event
National University of Ireland, Maynooth (NUIM),
Renehan Hall 
WORKSHOP PROGRAMME
Creative Connections
Creating Opportunities for Social Scientists
2nd October, Maynooth University
Workshop on Horizon 2020
The aim of this workshop is to provide information on opportunities for Social Scientists across Horizon 2020, to demystify the process by which the European Commission creates its Work Programmes and to facilitate discussion on call topics of interest, capacity and relevance to Societal Challenge 6; Europe in a Changing World – Inclusive, Innovative & Reflective Societies
1.00: Opening Remarks on Horizon 2020–Professor Mark Boyle, Director of NIRSA, Maynooth University
1.10: Information on Marie Skłodowska-Curie Actions (MSCA):
Dr. Jennifer Brennan, National Delegate and National Contact Point for MSCA
Maynooth University
1.15: Horizon 2020 Overview on Societal Challenge 6, European Research Council and Consultation Process for 2016/2017 Work Programme National Position Paper.
Mr. Paul Kilkenny, National Delegate and National Contact Point for SC6 & ERC (SH Panels)
1.25: Working Across Disciplines; Overview of ICT opportunities for social scientists in Horizon 2020 – Dr. Gerard Kennedy, NCP for ICT-Industrial Leadership Pillar
1.35: Societal Challenge 6 Programme Committee; Overview of comitology and process by which Work Programme for 2016/2017 will be developed - Professor Sheila Greene, Irish Research Council Board Member and National Expert – SC6 Programme Committee
1.45: Draft Recommendations Summary from SC6 Expert Advisory Group
Mr. Paul Kilkenny, National Delegate and National Contact Point for SC6
1.55: Question & Answer Session
2.00: Breakout Sessions; linking topics of interest to SC6 Expert Advisory Group Draft Themes
With Rapporteurs
A: Overcoming inequalities by developing Europe's human and social capacities
B: Facing the turbulence of regional and global changes
C: Understanding Europe. The changing role of European culture and society
D: Promoting a collaborative creative and sustainable economy
E: Building on open, engaging and innovative public sector
2.25: Plenary on Workshop Outcomes
Facilitated by Dr. Allen White, University College Cork
2.45: Next Steps and Final Remarks; Professor Mark Boyle, Director of NIRSA, Maynooth University
The IRC will provide funding (to a maximum of €70 per applicant) to cover travel costs[1]for workshop attendees. Applicants must fully complete all sections of the workshop attendance form (available from issplatform@nuim.ie - please put TRAVEL BURSARY REQUEST in subject matter on your email)

---
[1]Travel costs must be based on cost of standard class public transport costs or IRC mileage rates.  Please email issplatform@nuim.ie for details

Practical details:
Pay and display car park available on Newman Place, just off Maynooth main street (car park charges €5 for the day). This is not an NUIM car park and can be seen on google maps (apprx. 5 mins walk to venue).
When & Where

Renehan Hall
South Campus
NUI Maynooth
Maynooth
Ireland


Thursday, 2 October 2014 from 09:30 to 17:00 (IST)
Add to my calendar
Organiser
URBACT is the European Territorial Cooperation Programme fostering sustainable integrated urban development in cities across EU Member States, Norway and Switzerland. URBACT is an instrument of the Cohesion Policy, co-financed by the European Commission (ERDF) and Member/ Partner States.
URBACT enables cities to work together and develop integrated solutions to their local challenges. In URBACT  networks, cities share experiences and learn from one another, draw lessons and transfer good practices to  enhance their urban policies.
Department of Housing, Planning, Community and Local Government

National urban policy in Ireland is progressed mainly by the Department of Housing, Planning, Community and Local Government. Local authorities implement this policy guided by the Planning and Development Act 2000-2014 together with policy guidance from the Department.
The Department's 2002 National Spatial Strategy (NSS) provided a strategic spatial planning framework, which aimed to achieve a better balance of social, economic and physical development and population growth between regions through the co-ordinated development of gateway cities and hub towns. Work is currently underway on drafting the National Planning Framework, a successor to the NSS with a view to being in place early 2017.
The Programme for a Partnership Government, published in May 2016, sets out the ambitious priority attached to urban regeneration by the Government, incorporating a series of specific actions aimed at facilitating the regeneration of our urban centres, many of which have been adversely impacted by our recent economic difficulties. The Government's Action Plan for Housing and Homelessness – Rebuilding Ireland, published in July 2016, further reinforces the Government's commitment to the area of urban regeneration. To drive forward a series of intiatives, a Working Group, chaired by the Minister for Housing and Urban Renewal and comprising senior representatives from his Department, local authorities and other relevant bodies, has been established and will bring forward proposals for new urban regeneration measures as early as possible.  It is intended that the new measures will complement the existing regeneration programme under the Department's Social Housing Capital Programme, as well as other social regeneration initiatives already under way.