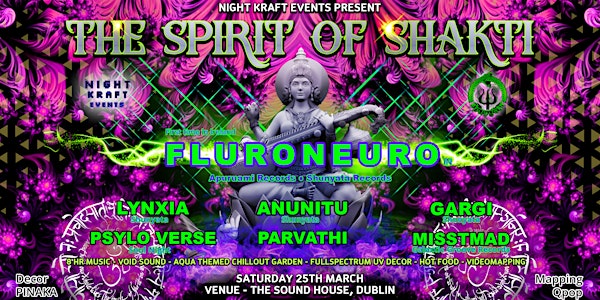 THE SPIRIT OF SHAKTI
International Headlining act all the way from India to be announced
By Smokin' Aces Entertainment & Night Kraft Events
Date and time
Sat, 25 Mar 2023 14:00 - 22:00 GMT
Location
The Sound House 28 Eden Quay #1st Floor D01 DE44 Dublin 1 Ireland
Refund Policy
Contact the organiser to request a refund.
About this event
After the success of our Label's 7th anniversary gig on the 19th of November 2022. Its time for us to give you something more for upcoming events. We wanted to drop you a quick line to sincerely thank you for attending our event. We hope you enjoyed the experience and we'd be incredibly grateful for any feedback you might have for us.
Looking forward to meeting you again next time - we have a few more events coming up over the next few months and it would be fantastic to see you there! For our next event we have an International Headlining act all the way from India, that is to be announced
This event is called THE SPIRIT OF SHAKTI
Shakti may be personified as the elegant Goddess, consort of Shiva, or the great Kali, the terrifying force destroying evil, The goddess is often viewed as the all-powerful Supreme Being, second not even to a male god. as Shakti, is the energy giving power behind all creation. Shakti is shown in many forms. As Parvati, she is the gentle consort of Shiva. As Kamakshi she is the Greatest Mother. In the form of Durga, the warrior who conquers forces that threaten the stability of the Universe.
The earliest term applied to the divine feminine, which still retains its popular usage, is Shakti. All interpretations of the word 'Shakti' hold common one parameter, Power. Specifically, Shakti means Power, Force and Feminine Energy. She represents the fundamental creative instinct underlying the cosmos, and is the energizing force of all divinity, of every being and every thing. Devotees believe the whole universe to be a manifestation of Shakti, who is also known by her general name Devi, from the Sanskrit root 'div' which means to shine.
The inevitable stage takeover by all the amazing female djs that Ireland has to offer.
INEVITABLE STAGE
● FLURONEURO - Shunyata Records - Apuruami Records - First Time In Ireland!
● ANUNITU
● GARGI
● LYNXIA
● MISSTMAD
● PARVATHI
● PSYLO VERSE
Chillout Garden
● ELO
● SHO
● ADI SHARMA
● GHANAATI
● BANDIA
● Q POP
DECOR - PINAKA
VISUALS & MAPPING - MARQU VR
Please get your tickets
First pre-sale for €8 - Pre-Sale ends on 25th December (SOLDOUT)
Second pre-sale €14 - Pre-Sale ends on 25th January
Third presale €20 - Pre-Sale ends on 25th March
Ticket price at the door - €25
8 hr music - Void sound - Illuminating chillout garden - full spectrum décor - Hot food - Visual mapping
Complete Line-up and details to follow - Please watch this space
You can learn more about us by visiting us on www.shunyatarecords.com
Thankyou