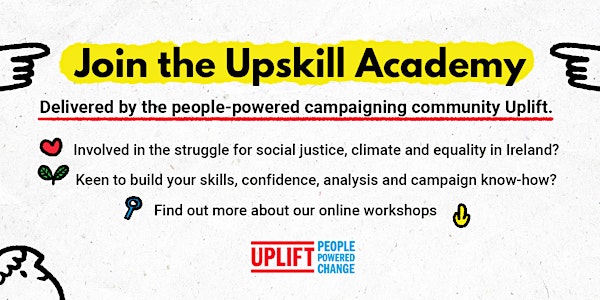 The Strategy Sessions: 1:1 Designing A Campaign Strategy for Your Issue
Design a Campaign Strategy for Your Issue
About this event
Join The Upskill Academy
Organised by people powered campaigning community Uplift
Are you involved in the struggle for social justice, climate, equality in Ireland?
Are you keen to build your skills, confidence, analysis and campaign knowhow?
Do you want to be more effective, strategic, creative in your work?
Sign up for one of the Upskill trainings and workshops on offer from Uplift
The Strategy Sessions: 1:1 Designing A Campaign Strategy for Your Issue
These are individual one hour strategy sessions with Uplift Founder Siobhán O'Donoghue who will work with you and your team to design or rethink a campaign strategy and work together to develop a practical plan of action.
Once the strategy session is booked, siobhan@uplift.ie will be in touch to get some details regarding your organisation and some information about the issue you are working on and need support developing a strategy with.
Please include links to articles or documents if available.