The Straw Festival (Food & Music) at Rock Farm Slane - Boyne Valley Food Series 2016

Sunday, 25 September 2016 from 11:00 to 17:00 (IST)
Event Details
Straw Fest
 25th September 2016
 A Mini Food & Music Festival
 at Rock Farm Slane
Straw Fest is an Autumn celebration of artisan and organic food supported by the Boyne Valley Food Seriesand Slane Food Circle. It is also part of our relatively new tradition of celebrating the bounty around the time of the Autumn Equinox at Rock Farm, in previous years, when we've had plenty of produce to share. Harvest festival at Rock Farm is a time of hard work and joy as we reap the rewards of months of careful growing of vegetables and fruit.
 We celebrating that joy by sharing produce, song and film together to gather our thoughts and plans for the Winter ahead.
 We look forward to sharing that experience with you!
Highlights of Straw Fest (25th September)
Dancing Freedom

– early morning session (10am) with Yoga Sophie for an uplifting open dance shindig in the Hay Barn. Adults and children are all welcome. 

Songcamp grand finale

– midday celebration of 3 days of singing workshops and 3 months of bountiful harvest on the farm. Thanking the land in true harvest festival style.

Local food market

with produce from Rock Farm (

www.rockfarmslane.ie

) and the rest of the Slane Food Circle (

www.facebook.com/SlaneFoodCircle

) and other Boyne Valley Producers
 This year we are expanding the festival over a number of days to include more activities:
Yoga Retreat

with Sophie Bolton of Yoga Sophie
            22nd – 24th September (www.yogasophie.co.uk)
 

Song Camp

with choir director and composer Helen Yeomans (

www.helenyeomans.co.uk

) 4pm on 23rd and 24th September with a finale at the opening of Straw Fest on 25th September
Schedule of Events
3-day Yoga Retreat

with Sophie Bolton of Yoga Sophie
     22nd September – 24th September
      (www.yogasophie.co.uk). Sophie is a natural guide for those seeking to begin or               expand   on their yoga practice. She runs yoga workshops for adults and children in      the Bristol   area and is well known for her Dancing Freedom sessions around the           South West of  England. 
Song Camp

with choir director and composer Helen Yeomans (

www.helenyeomans.co.uk

) who will hold a series of 1 ½ hour open singing workshops with enthusiasts and those who'd like to try singing as part of a group. No prior experience necessary just an inclination that you need to find your voice again or that you'd enjoy singing in a group.  

Carina Mount Charles

, owner and manager of Rock Farm Slane, met Helen last year during a week-long retreat at Embercombe in Devon (UK), and found her open singing workshop so elating and inspiring that she wanted to bring Helen over to Ireland.

Song Camp

will run at 4pm on Friday 23rd September and Saturday 24th September in the yard in front of the Farm Office at Rock Farm Slane. It will be free to anyone attending Yoga Sophie's 3-day retreat and will cost €8 for anyone wishing to join each session. On Sunday 25th September we will open Straw Fest with a Song Camp performance at 12pm. 

Only those who have attended the previous sessions will be able to take part.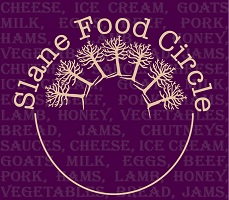 FARMER'S MARKET & FARM TOURS 
 This year we are focussing on the combined talents of the local producers from the Slane Food Circle as well as other Boyne Valley Food Series producers:
 (12pm - 4pm) Tours of Gold-certified Ecotourism Glamping overlooking Slane Castle and our new Strawbale Eco-Guesthouse (the Lime House) 
 (12pm to 5pm) Farmer's Market with artisan food, teas and coffees around the Strawbale Farm Office 
 (12pm to 4.30pm) Pop-up Pizza  
 Fresh homemade pizzas in our 2 wood-fired clay pizza ovens. Choose your own ingredients and wait for a new taste sensation €10/pizza.
 (2pm) Organic Farm Walk hosted by Alex Mount Charles (Slane Castle Whiskey Distillery) 
 (3pm) Green Building Workshop with Carina Mount Charles starting at the Strawbale Farm Office.
 Tickets will be sold separately for this event
 This one-hour condensed workshop will consist of a short presentation on our strawbale building project showing the different types of strawbale buildings (loading-bearing and timber-frame). We will then take a walk around the project to visit the different types of buildings. As part of our permaculture ethos we endeavour to use everything we grow from the straw from the barley fields for building to food and human waste (urine and humanure) for composting. The small residue of grey water and foul waste that we can't use goes into our new Integrated Constructed Wetland, which is at construction stage.
 This is a unique opportunity to see and learn about a variety of green building techniques and domestic-sized green waste management facilities. We have self-built compost toilets, Separett and Dubbletten compost toilets, an Aquatron, ICW as well as wormeries, bokashi buckets and a farm-scale composting system. 
THE LONG TABLE FEAST
(7pm - 11pm) No food event should be without its feast. This unique dining experience will be held in our new strawbuild the Lime House. This is an opportunity to break bread with friends old and new and share in the abundance of the harvest. Please bring a sharing plate of your own produce or invention to share at the table and in exchange you will get to sample the best of our local produce. 
We will finish the evening with a campfire and an acoustic session in the Pit beside the Lime House from the Wednesday Gang from Boyle's Pub in Slane (http://boylesofslane.com).
 Tickets will be sold separately for this event which begins at 6pm.
 For more details on Rock Farm Slane, please seewww.rockfarmslane.ie
When & Where

Rock Farm Slane, Ireland
Fennor
Slane
Ireland


Sunday, 25 September 2016 from 11:00 to 17:00 (IST)
Add to my calendar