Event Information
Location
Guinness Storehouse, Arrol Suite,
Guinness Storehouse
St James's Gate
Dublin 8
Description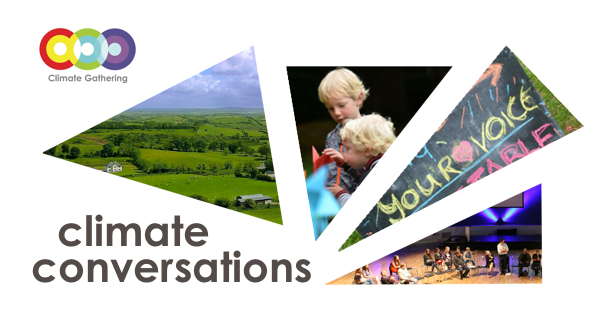 How we use our Land - Climate Conversations 2015 session III
7pm, Arrol Suite, Guinness Storehouse, St James's Gate, Dublin 8
This event is the third of a series of five "Climate Conversations" which aim to bring Ireland together for a new understanding of climate change. The Climate Conversations aim to promote greater understanding of what a low carbon future might bring for Ireland.
Food is at the heart of this conversation. We look at how we are growing it and whether today's agriculture leaves the land in better shape for future farmers.
Chef Katie Sanderson, social entrepreneur Iseult Ward from the Food Cloud, cheesemonger Seamus Sheridan and greengrocer Jack Roche will prepare some rubbish food (from waste food) for the audience to taste. The poet farmer, Peter Fallon will tell us about his life digging with pen and shovel. We will hear the facts about Irish agriculture and carbon emissions from UCC's Paul Deane. Then Nutfield scholar Mary Delaney, Andrew Doyle chairman of the Dail Committee on Agriculture, Rogier Schulte of Teagasc and comedian and farmer Breda Larkin will debate the grassroots issue of how we are using our land in a conversation chaired by Irish Times restaurant critic Catherine Cleary. Finally we will hear traditional Irish music with a Galician twist from fiddle and guitar duo Horns.
If you can't make it in person you can watch the event live at the following link https://youtu.be/ujlL8JIPElA

The subsequent events in the Climate Conversations are as follows, more details to follow.
Session IV "Prophetic Voices" 7pm 20th April 2015 - Christ Church Cathedral - Booking now open!


Session V "The Call to New Horizons" 7pm 10th May 2015 - The Abbey Theatre
Date and time
Location
Guinness Storehouse, Arrol Suite,
Guinness Storehouse
St James's Gate
Dublin 8