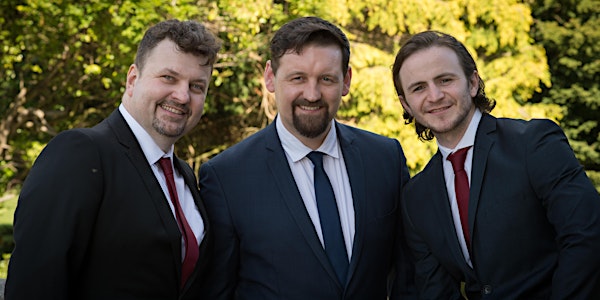 The Three Tenors LIVE Ireland's Greatest Voices •Wicklow Church of Ireland
Experience Amazing! Exciting/Contemporary/Popular Hits! Caledonia/Green Fields of France/NESSUN DORMA/HAVE I TOLD YOU LATELY!
When and where
Date and time
Sat, 18 Sep 2021 20:00 - 22:00 IST
Location
Church of Ireland Church Hill Wicklow Town Ireland
About this event
Sat 18 Sept--Tickets are STILL AVAILABLE in 'Bridge Street Books' Wicklow + Online Eventbrite.ie and at the Door from 7.30pm.
WELCOME! 'A SPECIAL INTIMATE EVENING'
Direct from National Concert Hall -- Uplifting Songs for Everyone!
A Special Collection of Popular Hits--From The Dubliners to Andrea Bocelli.
Saturday 18 Sept 8pm Doors 7.30pm
Wicklow Church of Ireland, Church Hill, Wicklow Town
Tickets Now ON SALE in 'Bridge Street Books' Wicklow + Online Eventbrite.ie
Tickets are Limited ! Book Early! This event is supported by The Department of Tourism, Culture, and the Arts.
They say 'there is no show like this Three Tenors show anywhere'. And it's true…it's different, enjoyable, uplifting and Irish--you are going to love this performance!
Celtic flavoured with a blend of classical and good humour, it's the fabulous mix of carefully selected popular and inspiring songs beautifully arranged and sung with passion that draws in people, who can easily connect with the three warm engaging singers Kenneth O'Regan, Paul Feery, and Kevin Fagan. A unique wide mix of Classic Hits like Caledonia/ Bridge Over Troubled Water/ Green Fields of France/PERFECT SYMPHONY/NESSUN DORMA /HAVE I TOLD YOU LATELY are featured.
Creating a storm around the country and beyond, The Three Tenors Ireland are well established and are the only Irish trio to perform annually for the past ten years in such prestigious venues as the National Concert Hall Dublin (with important fan President of Ireland Michael D. Higgins attending), Cork Opera House, Dublin Castle, and Belfast Lyric Theatre.
Ireland's favourite trio Kenneth, Paul, and Kevin, interact with audience to create a thrilling concert featuring a Classic-Mix of contemporary, uplifting, inspirational songs, some great Irish folk and some special surprises --something for everyone!
The passion and feeling in their songs is truly amazing and can even be emotional! A night to remember!
'FABULOUS, high-calibre, contemporary style -the entire audience was moved by their soulful performance' Sunday Independent
'I would recommend this wonderful concert to anyone–the most delicious box of chocolates your ears could ever have. Stunning Vocal Performance' New York Times