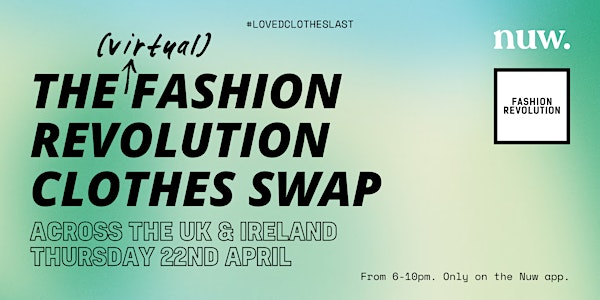 The Virtual Fashion Revolution Clothes Swap
Join The (Virtual) Fashion Revolutions Clothes Swap 2021. Renew fashion on the Nuw app, and make a conscious change to your wardrobe.
About this event
Make #LovedClothesLast in the biggest swap shop event of the year. Taking place virtually across the UK & Ireland from 6-10pm on Thursday 22nd April, only on the Nuw app.
How to join:
Download the Nuw app
Create your (free!) account
Upload to swap from your wardrobe
Get a token
Join the event
Not sure what to swap?
Find a piece from your wardrobe that you know deserves a new home, and share on Nuw to start swapping!
Who can I swap with?
On the 22nd April, discover incredible brands and unique new-to-you fashion to start swapping for free. Remember, 1 token = 1 swap. The more tokens you have, the more swapping you can do.