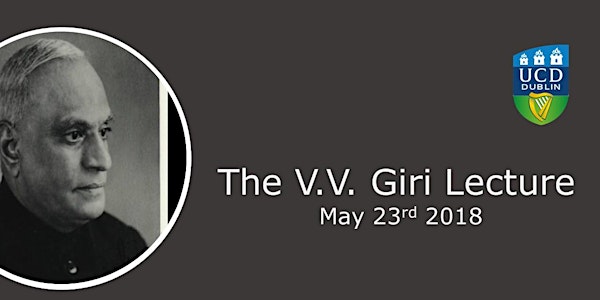 The V.V. Giri Lecture 2018
By UCD Sutherland School of Law
Date and time
Wed, 23 May 2018 18:00 - 19:30 IST
Location
UCD Sutherland School of Law Belfield Ireland
Description
The VV Giri Lecture 2018
May 23rd 2018
To be Delivered by
Dr Jyoti Atwal
(Jawaharlal Nehru University)
On the topic of:

Margaret Cousins (1878-1954) in India and Ireland: Revisiting Suffragettes, National Ideals and Anti Imperialist Politics
Years 1915-1916 hold special significance in the history of India and Ireland. Politically, the radical anti imperialist groups acquired confidence in the belief that revolution was achievable through armed uprising. Historians of anti imperialist movements (Chandra:1989; Josh:1992; Mukherjee:2005; Malley:2008) have pointed out to the international impact on the Indian freedom movement. The presence of VV Giri in Ireland and of Margaret Cousins in India during 1916 is highly significant. Their unique international experiences prepared them for an anti colonial methodology which included constitutionalism, Gandhian Satyagraha (passive resistance) and socialism. Margaret, an Irish suffragette and a founder of Irish Women's Franchise League (1908) with Hanna Sheehy Skeffington, sailed for India with her husband, James, when the suffragette activism was at its peak.
This paper seeks to explore how feminist scholars have attempted to 'put women into history' in Ireland (Murphy:1992; Daly;2008; Paseta:2013;Urqhart:2001) and India (Basu:1990; Forbes:1996; Kumar:1993). I will focus on the period from 1916 till 1936 when Margaret and James were actively engaged in the political life of India. I seek to address three themes - one, the question of politics of collectivity; second, creation of national ideals and thirdly, issues of economic reconstruction.
Where: UCD Sutherland School of Law
When: Wednesday May 23rd 2018
6pm Registration, Tea & Coffee will be served
6.30pm -7.30pm Lecture
Dr Jyoti Atwal
Dr Jyoti Atwal is Associate Professor of Gender and Women's history at the Centre for Historical Studies, Jawaharlal Nehru University, New Delhi. She is also Adjunct Professor, Department of History, Faculty of Arts, Humanities and Social Sciences, University of Limerick, Ireland. She has been a fellow at TCD, UCD, and UCC. She has recently published a book titled Real and Imagined Widows: Gender Relations in Colonial North India, Primus, New Delhi, 2016. She is currently working on a biography of Margaret Cousins (1878-1954). She has extensively travelled Ireland and delivered lectures. She was awarded a grant from Department of Foreign Affairs, Ireland towards books for starting an Irish Women's history lecture course for Master's students at JNU.


About the organiser
The UCD Sutherland School of Law is the largest and most diverse law school in Ireland.  The School is committed to the development and creation of new initiatives, to enriching the educational environment of its student body, to working in partnership with the practising legal profession and to establishing a major, well-regarded and authoritative presence in the international legal community. The Sutherland School of Law building is the first purpose-built Irish law school in Ireland and was designed with the principles of community and communication in mind. Completed in 2013, the state-of-the-art facilities include the Arthur Cox Clinical Legal Education Centre which houses negotiation and arbitration suites, a Judge's Chamber, Witness Room, and Moot Court.