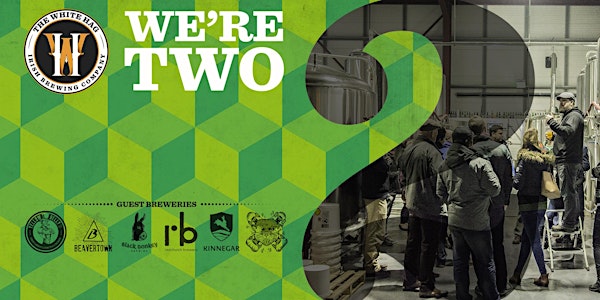 The White Hag & Friends - 2nd Birthday Party!
When and where
Location
The White Hag Brewing Company Unit 1 Block 2 F56 YR52 Ballymote Business Park Ireland
Description
We're Two!!
The White Hag are delighted to invite you to celebrate our 2nd birthday on 23rd July, here in our Brewery in Ballymote, along with our Craft Brewery friends. Breweries confirmed include Irish brewers Kinnegar, Black Donkey, Otter Bank and Yellow Belly. From London, we have Beavertown and Redchurch Brewery joining us for the event.
We'll be having hourly brewery tours, tastings of our full range of beers along side Kinnegar and Redchurch Brewery, great locally produced food using our beer and the most open of open bars! We'll also have live music by "The Craic Addicts" banging out Psychoceltic trad pop fusion sounds and tunes by DJ Noone Boy.
Tickets cost from €20 and include all of the above + more! Doors open 2pm.
Travelling from Dublin: We have secured a great offer with Irish rail. Take the 11.05am train from Dublin Connolly for €30 same day return at 18.19pm (€36 overnight return - accom. not included).
Travelling from Sligo: Take the 15:00 train for €9 same day return at 21.48pm
Celebrations will continue to the Swagman Bar in Sligo till late!
Note: Train ticket offer will only be valid until 2pm Thursday 21st July on Eventbrite.ie
The Brewery is two minutes walk from Ballymote Train Station. Check it out on Google Maps here.
Any questions? Give us a shout at:
amy@thewhitehag.com / 085-8722989