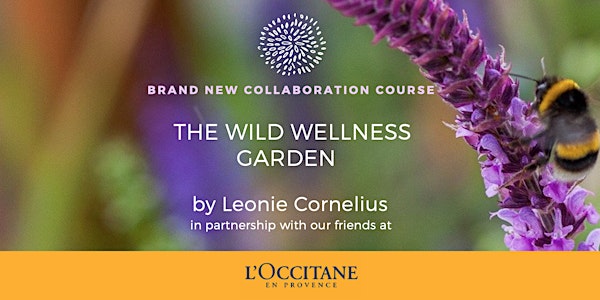 The Wild Wellness Garden with Leonie Cornelius & L'OCCITANE en Provence
Creating your Wellness Garden with award winning garden designer Leonie Cornelius and wellness brand L'OCCITANE en Provence
About this event
This brand new exciting online collaboration course is for anyone who finds joy in gardens and wellness. A unique collaboration between award winning garden designer and bestselling author Leonie Cornelius and the wellness and natural beauty brand L'OCCITANE en Provence, this course will explore the many facets of designing spaces for wellness and joy.
On the day the course will look at
Finding your wellness dream
Creating a concept for your personal wellness garden
Design tips & clever ideas for bringing wellness joy into your space- no matter what garden space you have to work with - small or large...or even tiny!
Dreamy plant choices, combination ideas and plant advice on what will make the best choices for your very own wellness garden
Hands on advice and ideas from Leonie on how to care for, harvest and use your amazing plant choices.
Inspiration from the wild wellness plants which feature in the amazing products by L'OCCITANE brand - and how they are grown sustainably!
Who this course is for: Anyone who wants to bring some wild wellness into their every day. From new builds to existing gardens spaces, balconies to patios and windowsills. Every garden deserves some wellness joy.
When: 24th July 2021, Saturday online on ZOOM
Time: 10am - 11.30am
Cost: This extra special deal of £30pp is made possible with thanks to our amazing partners at L'OCCITANE en Provence (course worth value €105 / £100)
FREE BONUS GIFT* worth €64 / £59 for every participant who will receive a gift from L'OCCITANE en Provence & Leonie Cornelius sent to their home after taking part in the course!
→You will receive:
1x Complimentary L'OCCITANE Lavender Hand Cream 75ml (worth €19 / £16.50)
1x Free 1-to-1 garden feedback voucher from Leonie to ask your garden questions - (worth €45 / £40)
*Please note: gifts can only be sent to participants in Ireland & the UK