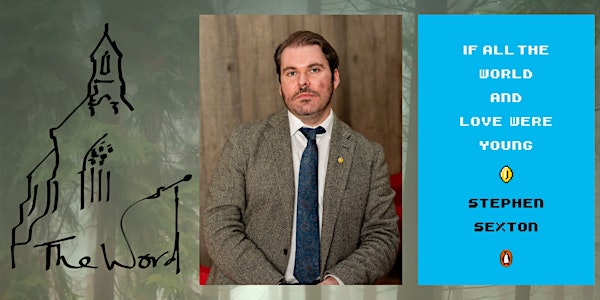 The Word with Sligo Library: FREE EVENT ON ZOOM
The Word is moving online with ZOOM, featuring author and poet, Stephen Sexton plus a performance by Simon Ferris and Rebecca Kennedy.
About this event
WEDNESDAY, OCTOBER 25, 2020 6:30PM
Online event.
THE WORD, a reading series hosted by Sligo Library Service and the Writing + Literature BA course at IT Sligo, returns in November.
Featuring: Stephen Sexton, poet and author of If All The World and Love Were Young, winner of the 2019 Forward Prize for Best First Collection of Poetry. Stephen teaches at the Seamus Heaney Centre for Poetry at Queen's University, Belfast.
(Celebrating Poetry Day Ireland: Chosen from over 12,000 entries, The Curfew by Stephen Sexton won the top prize of £5,000 in this year's National Poetry Competition: https://www.rte.ie/culture/2017/0427/870865-stephen-sexton-meet-irelands-next-great-poet/)
(Dr Stephen Sexton, lecturer in Poetry at the Seamus Heaney Centre at Queen's, has won the prestigious EM Forster Award, announced by The American Academy of Arts and Letters in March: https://daro.qub.ac.uk/pages/daro/news/main-pages/stephen-sexton-em-forster-award-2020-?DeliveryChannelID=23b56292-0f3c-43ac-af13-7767ad9d4057)
Simon Ferris and Rebecca Kennedy performing their radio drama piece about lockdown that was aired on RTE's Keywords programme.
Caragh Maxwell and David Byrne will moderate and facilitate the Q&A section of the evening.
There will be a discussion following the reading. The popular open mic session will follow the post-reading interview.
Open Mic
The Open Mic will be Limited to eight attendees of the ZOOM event, with three minutes per person.
If you are interested in performing in the Open Mic, please email sligolib@sligococo.ie.
The first eight people who express an interest, will be notified in advance of the event.
This event will be Streamed on Facebook on the night.
The Word is a collaboration between Sligo Central Library and the BA in Writing & Literature at IT Sligo. There is no charge for this event.
sligolib@sligococo.ie/ 0719111675