Therapeutic Restorative Yoga evening at Hotel Wood stock - Enjoy 2 hours of pure Bliss
About this event
What Is Restorative Yoga?
"We work very hard in our lives, and while we may sleep, we rarely take time to relax. Restorative yoga poses help us learn to rest deeply and completely."
And that, in a nutshell, is was restorative yoga is a slow, gentle practice that will reduce stress and improve health.
Various props such as bolsters, blankets, and blocks are used to prop the body up in poses, allowing the whole organism to remain in a deeply relaxed state.
Being held in these postures has a reparative effect on the body and allows it to drop down from a fight-or-flight response into the parasympathetic nervous system, the place where the body can heal and renew itself fully.
So if you've been feeling stressed, fatigued, or just generally out of sorts, be it from day-to-day life or perhaps from a major life event, then restorative yoga is what you need. Even those who are feeling balanced find that restorative yoga allows them to have more energy and allows them to sleep better.
Join Us Friday 8th October at Hotel Woodstock For a 2 hour Evening of Pure Bliss.
Investment: €30 pp
Booking Essential as places are Limited
Contact me Here: 085 8519818 or
Email: yogawithrosiemc@gmail.com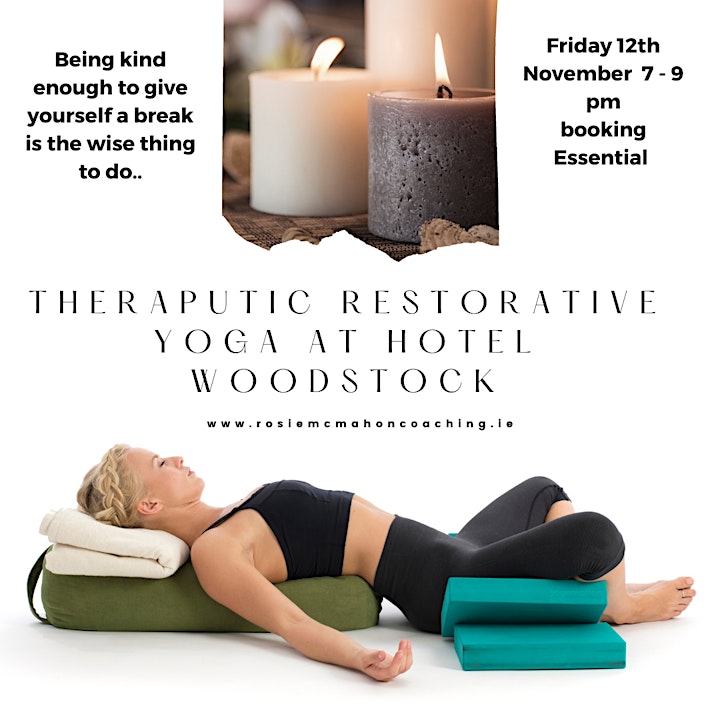 Organiser of Therapeutic Restorative Yoga Evening at Hotel Woodstock