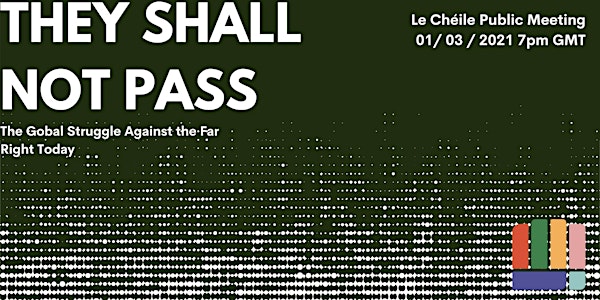 They shall not pass: the global struggle against the far right today
Our second public meeting where we will be discussing the global struggle against the far right!
About this event
'They shall not pass': The Global Struggle Against the Far Right Today
March 1st 7pm (Irish time)
Following the huge success of our public meeting in January, we are hosting our next meeting on the global struggle against the far-right today. Join us to hear about the challenges and successes of activist movements who have challenged the far-right across the world!
Chair: Ailbhe Smyth
Speakers:
Poland: Malgorzata Kulbaczeweska, Deputy Editor, Strajk (Polish left media platform)
America: Robin Wonsley, Black Lives Matter activist and Community Organizer in Minneapolis
Greece: Petros Constantinou. coordinator KEERFA, councillor Athens municipality
Ireland: Bríd Smith TD in the Irish Dail (member of Irish parliament) and a founding member of Le Chéile
The discussion will be conducted via zoom
This event will take place over Zoom. Participants will receive a link for the zoom meeting 15 minutes in advance of the event. We would ask that attendees do not share this widely but we encourage anyone who is interested to register using Eventbrite in advance so they will receive the link themselves.
All attendees will be able to join the call but will be automatically muted by the host and will be unable to unmute without permission of the host. There will be an opportunity for all attendees to ask questions of the panel through the chat function. Attendees will be able to message the host to ask a question but these will not be visible to other attendees.
Virtual Background
Le Chéile will send you a virtual background that you can download and use for the meeting. Our aim is to ask people, if comfortable, to upload the virtual background to their Zoom account and at the end of the meeting we will take a picture of everyone who has the Zoom background on their account.
There are some steps below to help you to upload the virtual background but there are more guides here for different browsers and devices.