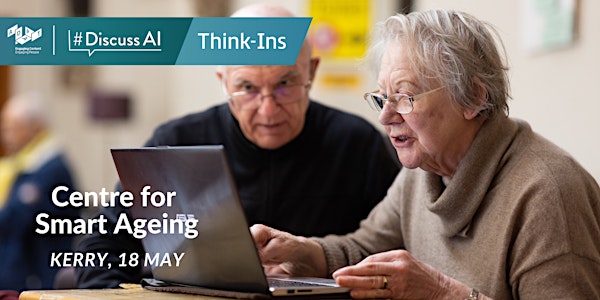 Think-In on Smart Healthy Ageing, Co. Kerry
How can technology support an active and healthy lifestyle?
Date and time
Thu, 18 May 2023 11:00 - 13:00 IST
Location
Centre for Smart Ageing Unit 11, 4 Park Farranfore Ireland
About this event
We invite you to take part in a Think-In in Farranfore, Co. Kerry.
The Think-In is an interactive discussion about Healthy Smart Ageing and the role technology plays in our lives as we grow older.
The purpose of a Think-In is to disuss and share your perspectives on the technology you use in your everyday life. Your participation in this event will help researchers create better technology for people like you.
Drawing from your own lived experience, we will discuss the topic of technology and healthy lifestyles through group discussion.
The Think-In content was co-created with members of the Smart Healthy Ageing community in County Kerry in March 2023. Participants had the following feedback from the co-creation event.
"It was really informative. All very friendly and made it easy to ask questions"
"I liked opinions and views being shared. Very positive"
"The facilitators were concerned about trying to educate us in the journey into the digital world"
What will I do during the Think-In?
During the Think-In, you will have the chance to listen to short presentations on the topic and you will then be invited to join small discussion groups. You don't need to have any expertise in the area – we will provide all the information you need and we are interested in hearing opinions from everyone.
This Citizens' Think-In is funded by the SFI Discover programme.
Agenda
10:30 AM - 11:00 AM
Registration and coffee
11:00 AM - 11:10 AM
Welcome
11:10 AM - 11:30 AM
Expert Speaker
11:30 AM - 12:15 PM
Small Group Discussion
12:15 PM - 12:45 PM
Discussion Feedback