Description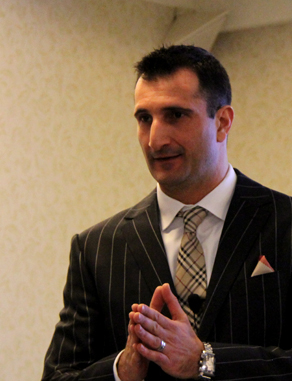 World renowned speaker, Dr. John Minardi, will be in the Netherlands to teach a Basic Thompson Drop Seminar that is anything but basic!
Dr. Minardi has revolutionized this classic technique by creating an intensive, scientific and practical three weekend certification course like no one else on the planet has ever done. Over fifty years ago, the Thompson Technique was first unveiled by Dr. J. Clay Thompson. This three part series encompasses all elements of the original technique and expands the teaching where Clay could not, due to the science limitations of his era.
Several new aspects have been incorporated into this classic technique by Dr. Minardi, filling in any gaps that may have existed. This innovative Thompson Technique Program explains each step in depth, using the latest research in the fields of biomechanics and neurology for greater understanding. The Seminar Series prides itself with intensive hands-on participation, ensuring the doctor will be able to confidently use the material in an office setting immediately. Those familiar with Thompson will learn more than they ever thought possible. Those new to the technique will be taken from step one and accelerated at a comfortable pace to learn all material presented.
The material is presented over three weekends in a workshop format. A unique interactive workbook is utilized. The first weekend (Module I) covers the basics of applied neurology and the essentials of the application of the analysis and adjustments used in Thompson Terminal Point.

In order to ensure that each participant has individualised attention and has direct access to a drop table, the seminar is limited to the first 22 people to register. An early booking discounted price of 425 euro(exclusive BTW) is available until February 14th, 2019.
Registration - 8:30 Saturday
Day 1 - 9:00-18:00 Saturday
Day 2 -8:00-12:00 Sunday
Module 1
History
Neurology 1
Leg Analysis
CS- prone Adj.
CS-Modified head of table adj.
C1: toggle recoil adj.
OCCS
BCS; prone adj.
BCS; supine adj.
BCS; seated adj
XD; and 2 subcategories
D-; supine adj.
D-; prone adj.
D+; upper boot adj.
D+ lower boot adj.
LS; seated adj
LS; split leg adj.
LS; prone adj.
TS; pottinger's saucer
TS: lateral listhesis
Rotated sacrum
PRI
IN ilium
Ex ilium
Elevated rib cage
FAQs
What are my transport/parking options for getting to and from the event?
You can park at the practice or contact of for transportation from the closest train station - Emmen Zuid

What's the refund policy?
You can recieve a full refund up to 30 days in advance of the event.