Description
Majella Byrne of Lavetta is running a half-day workshop, on behalf of Plato Dublin, designed to help owner-managers become more effective managers and leaders. Participants will learn techniques and practical ways to manage themselves, manage their environment and manage others so that they can focus their time, energy and resources on building and developing the business.
It will cover topics including:
Goal Setting
Setting the right goals

Eliminating distractions
Following through to delivery
Time Management
Where does the time go? Identifying time-swallowers

Separating what is important from what is merely urgent
Clever ways to achieve more in less time
Delegation
Who can take in some tasks?

How to let go without losing control
When delegation is not the answer
Resilience
Coping with and learning from setbacks

Who is my sounding board?
Communication
What is my communication style?

Is what I am saying being heard?
Adapting my style to the situation
The session will be interactive from the outset incorporating a range of reflective-type exercises. Participants will work individually, in pairs or small groups at times throughout the session with discussion, feedback and debrief. No preparatory work is required in advance by the participants, and all materials will be provided by the trainer.
---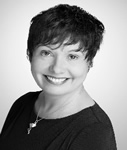 About Majella Byrne

Majella practices as a Coach, Speaker and Trainer. Her business; Lavetta, means "the peak" and her aim is to help people to live, work and be at their peak. She delivers management and leadership training sessions as well as coaching a broad range of people from executives to those considering career change or re-entering the workforce.
A natural communicator Majella facilitates workshops and delivers talks on a breadth of topics including change management, presentation skills and organisational development.
Prior to setting up Lavetta, Majella held leadership roles where she was responsible for a team of over 300 healthcare professionals.
Majella holds an MSc in Management Practice from Trinity College, a QQI accredited Train the Trainer qualification and an Advanced Diploma in Personal Leadership and Executive Coaching.