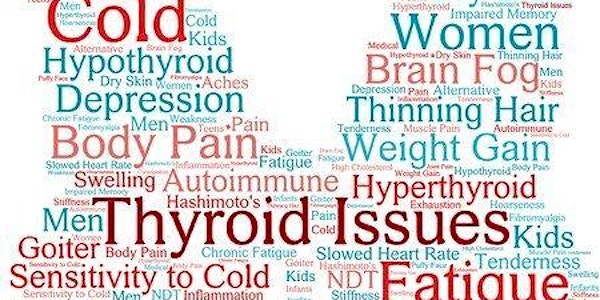 Thyroid Disease Awareness with Dr Neville Wilson and Barbara Barrett
This webinar is to bring awareness about the Thyroid Gland, its function and things you can do to support it.
About this event
The thyroid gland is a small, butterfly-shaped gland located in the base of the neck just below the Adam's apple. Although relatively small, the thyroid gland plays a huge role in our body, influencing the function of many of the body's most important organs, including the heart, brain, liver, kidneys and skin. Ensuring that the thyroid gland is healthy and functioning properly is vitally important to the body's overall well-being.
Patients with thyroid disorders (knowingly or unknowingly) are Up To Here with frustrating symptoms, such as gaining weight, feeling sad, or not getting enough sleep.
Dr Neville Wilson and Barbara Barrett will cover the most important things to know about the thyroid and what things will help support it.
Speakers:
DR. NEVILLE WILSON, BA., MB.,ChB., D.OBS.(COG) SA., D.FAM. MED., M.Sc., DNH.
Dr Wilson runs a busy integrative medical practice, at The Harbour Medical Clinic in Kilcock, Co.Kildare. A former South African Airforce pilot with experience working as a medic in diverse ethnic and remote communities in Africa, Australia and Canada. He has extensive experience in general surgery and trauma and is a holder of several Diplomas in a variety of fields.
Dr Wilson is a Diplomate of the College of Obstetricians and Gynaecologists of South Africa, is Certified in Acupuncture, Advanced Trauma Life Support and Advanced Cardiac Life Support and holds a Diploma as a Natural Health Consultant. He has a Master of Science degree in Nutrition and Exercise. One of his many interests is Preventative Cardiology and the role of Nutrition in clinical medicine (Nutrigenomics).
Neville believes that the prevailing medical paradigm is severely limited by its singular focus on disease, rather than on opportunities, and the potential, for creating health and promoting wellness.
Dr Wilson works with a significant number of patients suffering with their thyroid health and is one of the few GPs in Ireland regularly working with natural desiccated thyroid and nutritional protocols to help patients back to health.
Ms Barbara Barrett
Barbara has been immersed in the field of natural medicine for the last 30years, originally from South Africa and an accomplished artist in her own right Barbara brings an enthusiasm and clarity to her teaching. She graduated with a Bachelor in Holistic Health Sciences through the International Quantum University of Integrative Medicine, and is currently studying for her Masters and her Doctorate in Natural Medicine.
Barbara was a guest speaker at the Weston Price Foundation 3rd Wise Traditions Conference in Thomond Park, Limerick in March 2017. Currently she consults with patients at the Leinster Medical Clinic on nutritional and lifestyle medicine. She is a member of the Nutritional therapists of Ireland (NTOI).
Barbara has gained certificates in: Nutrition and Physical Activity (University of Pittsburg), Nutrition, Health and Lifestyle (Vanderbilt University), Bacteria and Chronic infections (University of Copenhagen), Human Physiology (Duke University), Exploring the Microbiome (University of Colorado, Boulder), Genes and the Human Condition (University of Maryland).
This event is being sponsored by Nutri Advanced Ireland www.nutriadvanced.ie
Sandra O'Connell ND Dip Ap Sci Naturopathy, Sales Manager ROI will be hosting the event.
Our Irish business is headed up by our Sales Manager Sandra O'Connell. Sandra has over 25 years clinical experience, in treating people with various health issues, from digestive disorders, women's hormones, mental health and various endocrine system disorders. As an Australian trained Naturopath, her degree entailed training in Nutrition, homeopathy, herbal medicine, touch for health, flower essences, mineral therapy and Iridology, which is Sandra's passion. She has gone on to become Ireland's first certified trainer of Iridology with the IIPA. Sandra is based full time in Ireland running product training and seminars, exhibiting at trade shows and helping practitioners in their practices. Her passion is to help other practitioners build their business, using quality supplements.