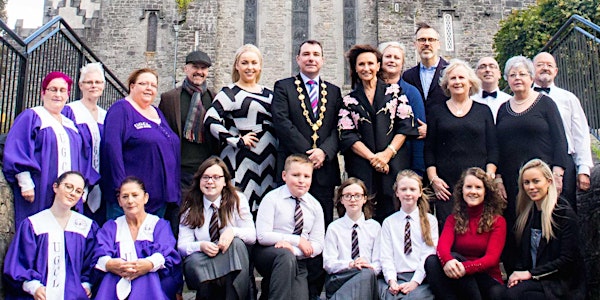 Tickets Available On The Door. Focus Ireland presents 20th Anniversary Thanksgiving Choral Concert at St Mary's Cathedral
Date and time
Thu, 22 Nov 2018 19:00 - Sat, 24 Nov 2018 07:00 GMT
Location
St. Mary's Cathedral Bridge Street V94 E068 Limerick Ireland
Description
Local Performers join forces in the fight against homelessness
Tickets €10 available on the door.
Focus Ireland has been challenging homelessness and changing lives in Limerick since 1998, and to celebrate its 20th anniversary in the Treaty county, the charity will hold a Thanksgiving Choral Concert on Thursday, November 22.
Focus Ireland works with people who are homeless or are at risk of losing their homes across Ireland. Focus Ireland provides services in Limerick City and County, and nationally as it works to end homelessness in Ireland.
From 7.30pm at St Mary's Cathedral on November 22, a number of performers will play their part in the fight against homelessness, including the hugely popular soprano Sinead O'Brien accompanied by tenor Derek Moloney, Mary Immaculate College Community Choir, Cantette Children's Choir, Parteen NS Choir, Unity Gospel Choir Limerick and St Marys NS Choir. SPIN South West presenter and local personality Meghann Scully will MC the event and Focus Ireland ambassador Celia Holman Lee will be the hostess for the evening.
By taking part in the concert, performers and supporters, will help Focus Ireland to back local Limerick families at risk of homelessness, and help those already directly impacted to find a stable home.
About the organiser
Focus Ireland. Challenging homelessness. Changing lives. Focus Ireland works hard to prevent and end homelessness. Focus Ireland works with people who are homeless or are at risk of loosing their homes across Ireland. It is a time of significant demand for homeless and housing services. There are almost 10,000 people homeless across Ireland today, 1 in 3 are children. 
We are driven by the fundamental belief that homelessness is wrong.
Wrong because it is a failure of society that creates victims out of ordinary people and robs them of their potential. Wrong because it can be prevented, it can be solved but is allowed to continue and in doing so, undermines society.

We need to challenge our society to think and act differently. We are committed to challenging everything about homelessness; the causes, systemic failures, people's perceptions and how it is tackled.

And we challenge ourselves in how we allocate resources to maximise our ability to prevent people from falling into homelessness and to help people find and keep a home.

Homelessness is wrong and we have to make that felt in every thing we do and say.