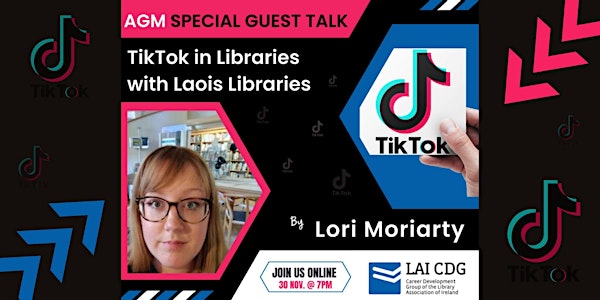 'TikTok in Libraries' with Laois Libraries and LAI-CDG AGM
Online talk on 'TikTok in Libraries' with Laois Libraries by Lori Moriarty, followed by the LAI's Career Development Group AGM
About this event
The LAI Career Development Group are delighted to host an online talk on 'TikTok in Libraries' with Laois Libraries. This talk will be followed by our Annual General Meeting and the election of our committee for our 2023 session.
From 7:00pm, Lori Moriarty from Laois Libraries will tell us about her use and experience of TikTok for library outreach. This will be followed by a short Q&A where you can ask Lori questions on the night. Find Laois Libraries on TikTok @LaoisLibrariesStaff.
From 7:45pm the LAI's Career Development Group will host their AGM. If you are interested in getting involved with the LAI, learning more about the library world, or meet like-minded library professionals, you are welcome to apply to join the 2023 committee. To apply to join committee, please fill out the following form: https://bit.ly/3DTBiKL.