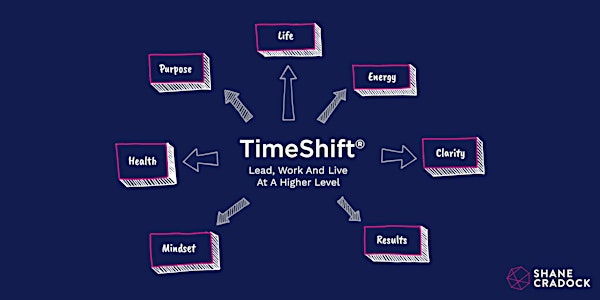 TimeShift - Lead, Work And Live At A Higher Level (Sep/Oct 2019) (Part of The Inner CEO series)
Date and time
Wed, 25 Sep 2019 10:00 - Wed, 22 Apr 2020 12:00 IST
Location
Red Cow Moran Hotel Dublin Ireland
Description
TimeShift: Lead, Work And Live At A Higher Level
This is a radically different approach to how we work and live. Impact not only your time but also your results, mindset, health, relationships, peace of mind and actually feel like you have a life.
***Please note that this is a program run over several weeks to create new habits that get the results you want. The program begins a week before the first in person workshop and to get the full benefit, you need to attend all three workshops.
The model most people are using to manage their time is out of date.
Business has become 'busy-ness'. And 'busy-ness', in the words of Bill Gates, is the new stupid.
More and more, people are finding that that they just can't cope with the apparent demands being placed upon them. Here are some findings from just one recent large scale study of business professionals:
40% of those surveyed said their inboxes are out of control
60% noted that they attend too many meetings
70% don't plan their weeks in advance
The majority said they lacked a sense of meaning, control, and achievement in the workplace

Improving your effectiveness can impact some or all of the following:
Sales

Results that matter most

Your workload

Quality of thinking

Stress levels

Confidence and self-esteem

Health and energy levels

Quality of sleep

Communication
"This training helped to bring real clarity to my way of working. It helped to sharpen my thinking.I'd estimate a 50% impact on ability to get more of what matters done and 60% improvement in my clarity of mind. Other areas that benefitted were my sleep, energy and communication with my team". - Bill Walsh, Founder and CEO, Aspire Technology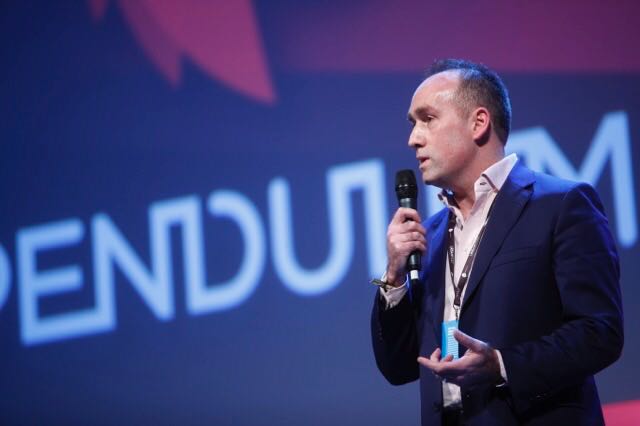 With so much change happening, businesses are struggling to maintain and increase productivity. And figures like the ones above are not unusual.
And part of the problem is that we are using an outdated model to manage our time. A model that was based on the 'industrial' factory age and not where we find ourselves - the information age/digital age.
There has been an explosion in information, and technology has changed the way we do work forever. As a result there will be a massive shift in the way we use our time - a TimeShift, which once understood change the way you look at and live your business and personal lives.
We all have one thing in common - 24 hours to use in a day.
But how we use that time varies hugely from person to person. And never more so than now - the majority of people are using their time ineffectively because they are not using the right strategies.
---
Here's 3 points to consider:
1. Most people have poor habits when it comes to using their time. We all are creatures of habit and our habits define our actions and ultimately our results. So doesn't it make sense to learn the best habits when it comes to using your time?
2. There are many time management systems available but most are not really suited to the Digital Age, where everyone can be connected and available 24/7.
3. You can be busy every day, but ultimately really not get anything significant done.
'Time Shift' is a unique program created by Shane Cradock, that trains you in critical habits to help you get more out of your career, life and business. It's format is 3 morning workshops spaced over 4 weeks designed to equip you with the mindset, habits and tools to get more of the real priorities in your life and business done.
---
During the TimeShift Program you will:
Learn simple ways to immediately boost your productivity

Take a more strategic approach to your time

Learn how best to start your day and to set yourself up for better results

How best to manage interruptions

Learn how to get back a minimum of 30 days a year for 'high priority' work

How to stay focused on what get's you and your company the best results

Learn the one thing that has the biggest impact on your productivity (& most courses never mention this...)
***Previous participants report a minimum increase in productivity of 30% after one week alone.
Who Is This For?
Anyone interested in boosting their productivity, results and overall satisfaction in business and life.
"TimeShift provides you with the tools to get clarity around your life inside and out of work. Provided me with simple processes to get better work life balance. There are very valuable take-aways for everyone regardless of their business or seniority. Do it - you'll thank me for recommending it to you. 10/10."
~ Niall McNiff, Founder and Director, real Time - The IT Recruitment Specialists
"This is much more than a time management course. It's like a life skills course. I can't describe the impact this workshop has had on me. It gave a lot more than I expected - business and personal. Highly recommended."
~ Andrew Leonard, Marketing Manager, Cricket Ireland
---
TIMESHIFT CREATOR & FACILITATOR
The course will be run by TimeShift creator, Shane Cradock, who has over twenty years experience as a business advisor and performance coach to companies at all levels, from SME's to global multinationals. Core to his success with his clients are his unique insights into how to get the best from your time and your self. Shane has developed unique material that will save you hundreds of wasted hours and add boost your performance. It's a real art to find the simple things that make the biggest difference i.e. the 20% that impacts on 80% of your results. That's the focus of the workshops. To show you how to make immediate changes that will impact on your productivity and life.
---

COURSE FORMAT
This program has a very unique format that is a blend of remote learning, short interactive workshops and daily accountability to generate habits and ultimately better results. A mix of companies with high calibre leaders will be participating so it's very useful networking also.

**Note: To participate and get the best from the program, it's advised that you attend all three interactive workshops.

Workshop Dates at Red Cow Moran Hotel, 22 Naas Rd, Fox-And-Geese, Dublin 22, D22 YX80.

Workshop 1: Wednesday 25th September 2019 - 10am to 1pm (Red Cow)

Workshop 2: Wednesday 9th October 2019 - 10am to 1pm (Red Cow)

Workshop 3: Wednesday 23rd October 2019 - 10am to 1pm (Red Cow)
Please note that the program starts specific preparation from the 18th of September.
Fee: €695 ex.Vat from 14th August 2019 (This is a limited attendance event)
Early bird fee available @ €595 ex.Vat up to 13th August.
Think about the value of your time over the next year, in relation to your business and your life. Average TimeShift participants experience a minimum increase of 30% in their effectiveness. What would that be worth to you?
To Reserve A Place:
Please buy your ticket here or if you'd rather avoid extra charges and do a bank transfer, please send an email to support@shanecradock.com, and we will be in contact with further details.
Discounts available for private clients and group bookings.
---
TESTIMONIALS FROM PREVIOUS PARTICIPANTS
"The processes are extremely simple, are easy to implement and have an incredible impact once you use them. I've seen improvements in confidence, sense of control, reduced stress levels, mindset/attitude. I've learnt how to prioritise more effectively and how to plan properly. I have a clear understanding that there is no point 'being busy' unless you are busy at what is going to benefit you in the bigger picture. Clarity of mind +70%. Effectiveness +70%."
Kelli O'Keefe, Managing Director Teneo PSG
"Before I was focusing solely on my professional life but not getting the most from my personal life. I now realise that balanced success isn't just a concept but actually possible. I have learned the importance of planning to do the things I love to do the most in all areas of my life. I feel much more in control of my work and life goals and feel like I can achieve anything. The results to date have been fantastic and I have developed so much personally."
~ Gretta Nash Cadden, Human Resources Manager, Brown Thomas Regional Stores and BT2
The benefits of the Timeshift Workshop for me are better planning, productivity, organisation and therefore more effective, efficient and less stressed. Overall I'm more focussed on my goals also. I couldn't get over the difference in terms of my mental clarity from understanding the "ROCKS" principles. 10/10."
~ Paul Cadden, Founder and Managing Director of Saba Restaurant Group
If you follow even just some of the advice given in this workshop, it changes the way you live by helping you to stop, assess and focus on priorities both in your work and your life. I can't get over the difference in my energy levels just by doing one of the strategies alone plus my focus is dramatically better.
~ Director of Recruitment Company in Dublin
---
RESULTS FROM RECENT TIMESHIFT PROGRAM
The program was run in-house as High Performance training for a group of senior managers in a fast expanding company in the health/tech sector. The purpose was to enable all leaders to grow as the business grew, while also improving quality of life.
Top-line results of interest:
Impact on Clarity (Avg): +75%
Impact on ability to get more of what matters done (Avg.) +85%
Impact on Productivity (Avg): +80%
Impact on Leadership (Avg): +80%
NPS score from 22 participants: 100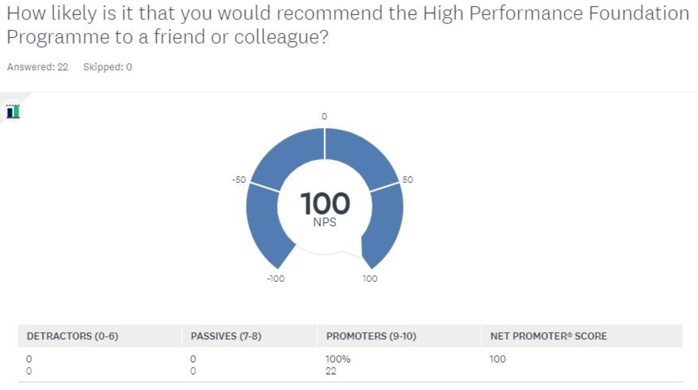 Top areas improved in graphic below:
Sense of control
Results
Mindset/Attitude
Reduced Stress levels
Work/Life Balance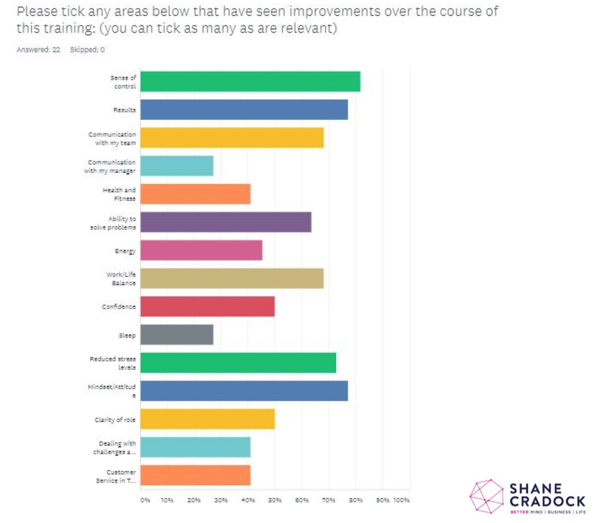 ---
TESTIMONIALS FROM PREVIOUS PARTICIPANTS
"The Timeshift Workshop is a great opportunity to look at how you can improve yourself and how you use your time i.e. it's not just the time/productivity workshop. It helped highlight how I can improve my daily, weekly and monthly planning. It also focussed my mind on what are the real priorities that make a difference and it helped me to see my rocks more clearly. 10/10"
~ David Graham, Managing Director, Fine Print Ltd.
"The workshop is a great way to change habits and learn new habits that really make a difference. It helped ensure that vital daily work that aligns with overall goals gets done which means more effective productive time."
~ Brian Jennings, Managing Director, Jennings Design Studio
"The workshop provides a very simple but powerful structure to bring clarity and focus to your career and life."
~ Wayne Kelly, Senior Executive, Naturgy
"The training enabled a realisation of how effective one can become. Powerful development both professionally and personally." % Impact from TimeShift on your ability to get more of what matters done: 100%+ ; % impact from TimeShift on your Clarity Of Mind: 100%+
Stephen Gormley, Managing Director, BTW Sandyford
"Timeshift gets your life in order. It helps you to take back control of your life and it is very life changing, even though I expected it to work on just my business".
~ Ross Kremin, Managing Director of The Passive Lab, Score – 10/10
---
Key Dates For This TimeShift Program
Workshop 1: Wednesday 25th September 2019 - 10am to 1pm (Red Cow)
Workshop 2: Wednesday 9th October 2019 - 10am to 1pm (Red Cow)
Workshop 3: Wednesday 23rd October 2019 - 10am to 1pm (Red Cow)
Please note that the program starts specific preparation from the 18th of September.
If any of the above resonates with you and you're still thinking 'I wish I had the time to do this', then this is definitely for you! There is never a 'right time' for TimeShift - the most common feedback heard after the program ends is 'I wish I'd done it sooner.'
To Reserve A Place:
Please buy your ticket here or if you'd rather avoid extra charges and do a bank transfer, please send an email to support@shanecradock.com, and we will be in contact with further details.

About the organiser
Over the past 20 years, Shane has worked across over 50 industries with top entrepreneurial leaders in Ireland and internationally. His clients are ambitious people hungry for growth and clients include Top Fortune companies such as Apple, Dell, the Kantar Group and Prada along with Irish/UK businesses such as Milner Browne, Saba and Ely Restaurants, Louis Copeland & Sons, Boodles and many more.