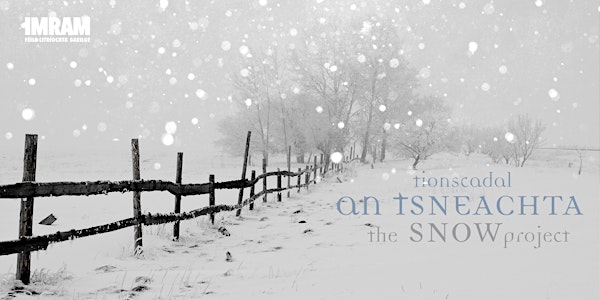 TIONSCADAL AN tSNEACHTA THE SNOW PROJECT
TIONSCADAL AN tSNEACHTA / THE SNOW PROJECT
Refund Policy
Contact the organiser to request a refund.
About this event
Tá triúr filí, duine acu i mBéarla agus an bheirt eile i nGaeilge, ag dul i ngleic le téama an tsneachta sa tionscadal seo. Duine acu is ea Mícheál Ó hAodha, údar an tsaothair Leabhar Dubh an tSneachta, cnuasach gearrdhánta ata ag ple le cuimhne, caillteanas agus sneachta. File agus ealaíontóir colláise í Helen Ivory, údar Waiting for Bluebeard agus The Breakfast Machine. Domhan suaite a léiríonn sí, dar le Penelope Shuttle, suaite ach meallacach mar sin féin, lán d'íoróin is míshuaimhneas. Léifidh Gabriel Rosenstock haiku leis an máistir Issa, ó cheantar an tsneachta Shinano sa tSeapáin, traschruthaithe i nGaeilge. Tá íomhánna againn ó Margaret Lonergan agus tionlacan ceoil ó Enda Reilly.
The Snow Project features three poets - two in Irish, one in English - exploring the theme of snow. Mícheál Ó hAodha has just recently published Leabhar Dubh an tSneachta, in which he explores themes of loss, memory and snow. Helen Ivory is a poet and collage artist, and the author of Waiting for Bluebeard and The Breakfast Machine. Penelope Shuttle has described her work as creating 'a troubled yet beguiling world rich in irony and disquiet'. Gabriel Rosenstock reads Irish transcreations of a selection of haiku by Issa inspired by the snowy landscapes of Shinano in Japan. Margaret Lonergan has created beautiful visuals, whilst the poets read to musical accompaniment from Enda Reilly.