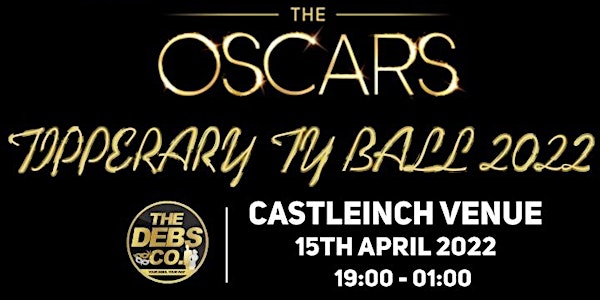 Tipperary Official TY Ball
Event Information
Location
Castleinch Venue
Brownstown
R95 DW92 Kilkenny
Ireland
Official Tipperary TY Ball 2022
About this event
Official TY Ball Tipperary 2022 Arrival Time - 7:00pm The Debs Co | Castleinch Venue Kilkenny
The Debs Co Presents: The Official TY Ball 2022
About this event
Official TY Ball Tipperary 15th April 2022
Arrival Time - 7:00pm
The Debs Co | Castleinch Venue Kilkenny
The Debs Co Presents:
The Official TY Ball 2022
Castleinch Venue
19:00 - 01:00
-------------------------
Welcome to The Debs Co TY Ball class of 2022.
We are as excited as you are. This is going to be an unmissable night shared with your classmates and friends from other schools. On the night you will be greeted with non-alcoholic champagne/cocktail reception. Then after you will be seated for an exquisite meal (3 course meal) in the venue, after the meal the oscars will commence and each school gets to nominate students for prizes. This will be all recorded and photographed by our professional team and all photos taken on the night will be available the next morning on our Facebook album plus free group photo. Then the oscars afterparty straight after in Catleinch Venue with Club Resident DJ's - The DJ Co and Dj Dave Newman taking over the night till 1:00am.
We hope to see you there as it is truly a night not to be missed.
Yours truly,
The Debs Co. Team
-------------------------
>> WE WANT YOU <<
Yes that's right, we are in the process of building out "TY Committee" and need you to be apart of it:
Perks:
- Skip the Queue
- Drink Tokens
- VIP Area
- Free Tickets
- Free Money
What you have to do:
- Sell our tickets
- Share all social media posts and on to your personal story
- Mention us in your insta bio
INTERESTED? DM us on insta - @thedebsco.ie
-------------------------
ROAR | Non-alcoholic event |
Date and time
Location
Castleinch Venue
Brownstown
R95 DW92 Kilkenny
Ireland