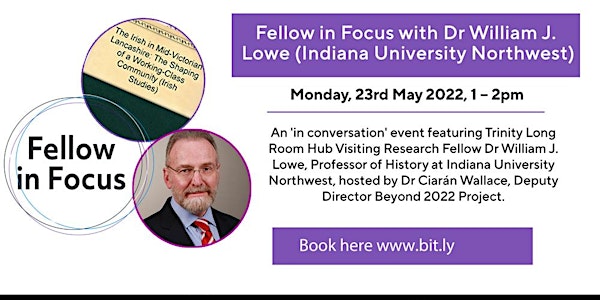 TLRH | Fellow in Focus with Dr William J. Lowe (Indiana University)
Location
Trinity Long Room Hub
Fellow Square
Trinity College
Dublin 2
Ireland
An 'in conversation' event featuring Trinity Long Room Hub Visiting Research Fellow Dr William J. Lowe, Professor of History at Indiana Uni
About this event
An 'in conversation' event featuring Trinity Long Room Hub Visiting Research Fellow Dr William J. Lowe, Professor of History at Indiana University Northwest, hosted by Dr Ciarán Wallace, Deputy Director Beyond 2022 Project.
About Dr William J. Lowe
Dr William J. Lowe is Professor of History at Indiana University Northwest, where he served as chancellor during 2010-2020. He is a graduate of Trinity College Dublin (PhD, Modern History, 1975) and holds a B.A. in History from Michigan State University.
Dr Lowe's research and writing is in the field of modern Irish history and he was a Fulbright Scholar in Ireland (1990). His current project is the history of the Royal Irish Constabulary (R.I.C.), from 1836 until its disbandment in 1922. His articles have appeared in Irish Historical Studies, Irish Economic and Social History, Éire-Ireland, History Ireland and other international journals. Dr. Lowe's book, The Irish in Mid-Victorian Lancashire: The Shaping of a Working Class Community, appeared in 1989.
His role as Professor of History includes cross-disciplinary teaching commitments in History, Criminal Justice and Economic History. Prior to Indiana University, Dr. Lowe was Provost and Professor of History at Metropolitan State University in Saint Paul, Minnesota, where he also served as Interim President during 2007-2008. He has also held academic leadership positions in Albany (NY), Detroit (MI), Chicago (IL) and the State University of New York.
Dr Ciarán Wallace
Ciarán Wallace is Deputy Director of Beyond 2022. He completed his PhD on late nineteenth- and early twentieth-century municipal politics in Dublin at Trinity College Dublin (2010), where he subsequently held a Government of Ireland Post-doctoral Fellowship. He was a co-designer of Trinity's inaugural Massive Online Open Course (MOOC) 'Irish Lives in War and Rebellion: 1912-1923'. Having lectured in Modern Irish History at Trinity College Dublin, Dublin City University and Liverpool John Moore's University Ciarán returned to Dublin to take up a post in the initial scoping phase for Beyond 2022.
Please indicate if you have any access requirements, such as ISL/English interpreting, so that we can facilitate you in attending this event. Contact: foraffer@tcd.ie