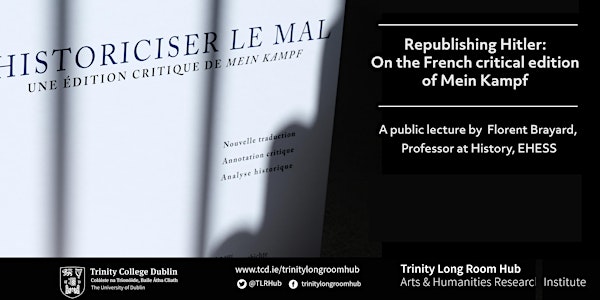 TLRH | Republishing Hitler: On the French critical edition of Mein Kampf
Location
Trinity Long Room Hub
Fellow Square
Trinity College
Dublin 2
Ireland
A public lecture by Florent Brayard , Professor at History at the École des hautes études sciences social organised by Dr Daniel Geary, TCD
About this event
A public lecture by Florent Brayard , Professor at History at the École des hautes études sciences social organised by Dr Daniel Geary, TCD in association with Trinity Long Room Hub and in conjunction with TRISS and with the Faculty of Arts, Social Sciences, and Humanities.
In 2016, seventy years after Hitler's death, Mein Kampf entered the public domain: anyone can now offer their own edition. This also means that it is finally possible to publish this fundamental source for the history of the 20th century in the form of a critical edition. This is what the Franco-German scientific team led by Florent Brayard has worked on for several years. Brayard, Professor at History at the École des hautes études sciences social, will present the different challenges, scientific, technical, and political, of this very unique editorial enterprise. John Horne, Emeritus Professor of History at Trinity, will offer a comment on Prof Brayard's presentation.About Florent Brayard
Florent Brayard, a historian, is a researcher at the French National Center for Scientific Research (CNRS). A specialist in the policy of the persecution and extermination of Jews, he is the author of Comment l'idée vint à M. Rassinier: Naissance du révisionnisme, Paris, Fayard, 1996; and La "solution finale de la question juive": La technique, le temps et les catégories de la decision, Paris, Fayard, 2004. He has also published, with Alan Rosen, a French version of David P. Boder's book, I Did Not Interview the Dead (Urbana, University of Illinois Press, 1949): Je n'ai pas interrogé les morts, Paris, Tallandier, 2006.
Please indicate if you have any access requirements, such as ISL/English interpreting, so that we can facilitate you in attending this event. Contact: foraffer@tcd.ie