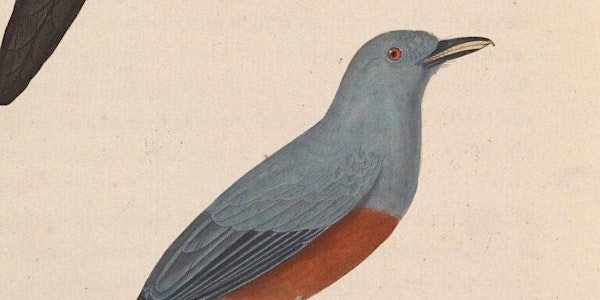 TLRH | Studying birds through science and the arts
Location
Trinity Long Room Hub
Fellow Square
Trinity College
Dublin 2
Ireland
Animal Studies: Avian Methodologies in Zoology and English Literature
About this event
This seminar will explore the possibilities of interdisciplinary collaborations between the sciences and the humanities in relation to animals. With a focus on birds, the speakers will discuss methodologies in their respective subjects. Dr David Kelly and Professor Nicola Marples will present their work on sex differences in Island Monarch birds in Indonesia. Dr Julie Bates will talk about birds in artist and writer Erica Van Horn's work. The seminar will invite discussion from all participants so please read the recommended reading in advance of the seminar. PDFs will be circulated to registered attendees.
Chair: Dr Clara Dawson (English, University of Manchester)
Respondents: Dr Julie Bates (English), Dr David Kelly (Zoology), Professor Nicola Marples (Zoology)
Recommended reading:
Fionn Ó Marcaigh, 'Tramps in Transition: Wallacea's monarch flycatchers and their evolutionary natural experiment' http://www.ecoevoblog.com/2022/01/19/tramps-in-transition/
This blog post is a summary of a longer article. If you wish to look at the full article, the PDF will be circulated.
Hubert Zapf, 'Creative Matter and Creative Mind: Cultural Ecology and Literary Creativity' in Material Ecocriticism, ed. Serenella Iovino and Serpil Oppermann. (JSTOR or circulated on PDF)
Helen MacDonald 'High Rise', from Vesper Flights. [circulated on PDF]
cess requirements, such as ISL/English interpreting, so that we can facilitate you in attending this event. Contact: foraffer@tcd.ie