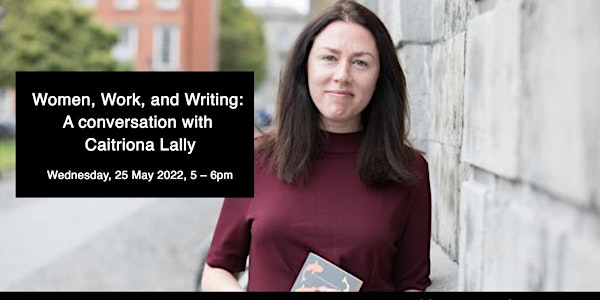 TLRH | Women, Work, and Writing: A conversation with Caitriona Lally
Location
Trinity Long Room Hub
Fellow Square
Trinity College
Dublin 2
Ireland
Author Caitriona Lally will be joined by Orlaith Darling, School of English and TLRH
About this event
Author Caitriona Lally will be joined by Orlaith Darling, School of English and TLRH, in a discussion and reading to mark the inaugural TLRH Rooney Writer Fellowship.
About Caitriona Lally
Caitriona Lally's first novel, Eggshells, is about a misfit who walks the streets of Dublin in an attempt to find identity and belonging. It was shortlisted for the 2015 Newcomer award at the Irish Book Awards, and the 2016 Kate O'Brien Debut Novel Award. Lally won the 2018 Rooney Prize for Irish Literature and was awarded a Lannan Literary Fellowship Award in 2019. Her writing has been published in The Lonely Crowd journal, Guts magazine, The Irish Times, The Observer, and The Guardian, and broadcast on RTE and BBC Radio 4. She was the featured writer at Starboard Home, a musical collaboration between Dublin Port and the National Concert Hall. Her second novel, Wunderland, which explores an awkward sibling relationship, was published by New Island in 2021. Lally is currently working on a screen adaptation for Eggshells and her third book.
About Orlaith
Orlaith is a PhD student in the School of English, where she researches contemporary Irish women's short fiction. Her research addresses how contemporary Irish short fiction charts changes in the make-up of Irish society, specifically in works published in the last ten years – including collections by Lucy Sweeney Byrne, Claire Keegan, Nicole Flattery, Danielle McLaughlin, Claire Louise Bennett, Mary Costello, Wendy Erskine, Lucy Caldwell and June Caldwell. She is excited by the vibrancy and possibilities of the short form as a vehicle of contemporary commentary, allowing writers to reflect on social conditions and the world around them in real time. Her PhD examines Irish short fiction's representations of the body, the home, country & urban life, and history. In so doing, it touches on contemporary Irish iconography – from ghost estates to Repeal the Eighth posters – as well as a heritage stretching from the rural idyll to Dubliners.
Please indicate if you have any access requirements, such as ISL/English interpreting, so that we can facilitate you in attending this event. Contact: foraffer@tcd.ie