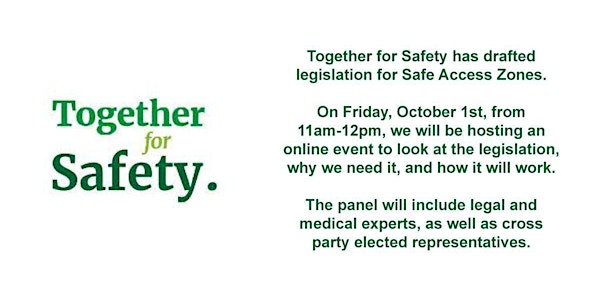 Together for Safety - Draft Legislation Launch
Together for Safety are delighted to launch our draft of the Safe Access to Termination of Pregnancy Services Bill
About this event
On October 1st at 11am Together for Safety will publicly release our draft of the Safe Access to Termination of Pregnancy Services Bill (Safe Access Zones).
We have been working hard over the last few months to draft this Bill and gather as much support from the political establishment as well as stakeholders and grassroots organisations. Our aim is that this Bill will be inclusive, robust and fit for purpose.
During this event we will discuss this legislation, why we need it and how it will work.
Confirmed panellists include:
Dr Jennifer Kavanagh
Barrister Clíodhna Ní Chéileachair
Senator Alice-Mary Higgins, Independent
Senator Paul Gavan, Sinn Féin
Senator Rebecca Moynihan, Labour Party
Senator Pauline O'Reilly, Green Party
Together for Safety - Campaigning for Safe Access Zone Legislation
Twitter: @together_safety
Instagram: @togetherforsafety
Facebook: TogetherForSafety
Website: togetherforsafety.ie
Email: info[AT]togetherforsafety.ie
Sign and share our petition via UpLift