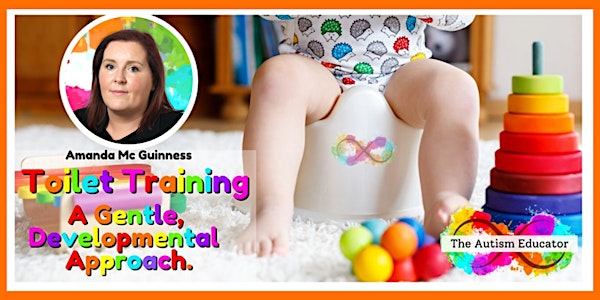 Toilet Training - A Gentle Developmental Autistic Approach
A gentle developmental approach to Toilet Training for families of children with varying support needs. - July11th 2022 7.30pm -10.30pm
About this event
A gentle developmental approach to Toilet Training for families of children with varying support needs. Taking place on ZOOM on July 11th 2022 7.30pm -10.30pm
About this Event
Toilet Training - A Gentle Autistic Developmental Approach.
For many parents, the thought of toilet training their little ones can be overwhelming.
Having toilet trained my own children and supported countless children (with varying levels of support needs) on their journey to toileting independence, I can tell you it can be done without those feelings of overwhelm.
My approach to Toilet Training has always been to focus on the child and the parent.
Toileting independence is a huge developmental milestone for children. If your children have additional needs, you may find you are meeting additional barriers to success in toileting. There can be regressions, withholding, sensory differences, intellectual and communicative misunderstandings.
Toilet Training: A Gentle Developmental Approach will seek to support families in helping their children on their toileting independence.
This workshop is an introduction to toilet training for families of children who are autistic, and/or who have intellectual or developmental disabilities.
This presentation is open to parents and professionals. A recording of the event will be made available for 7 days afterwards.
Bonus Materials will include:
A selection of Toilet Training Visual Supports will be posted out to each attendee in advance of the training and each attendee will receive a PDF Information & Resource pack to support their child/student after the training via the email they supply at check out.
Please ensure you provide your shipping address for your Visual Supports. Only one set of Visual Supports per ticket purchase.
Visual Supports will be sent to the shipping address supplied at checkout.
Topics included:
Toileting Readiness - Step by Step Advices
Incremental & Gentle Approach to Day & Night Time Training
Withholding & Bowel Movements
Sensory Differences
Regressions
Visual Supports
Practical Strategies
Lived Experiences
Facing challenges and fears
Recommendations
Question & Answer Time
For more information contact me through my social media on Instagram or Facebook
There are limited places available so book now to avoid disappointment.
I look forward to meeting you at the training.
Amanda