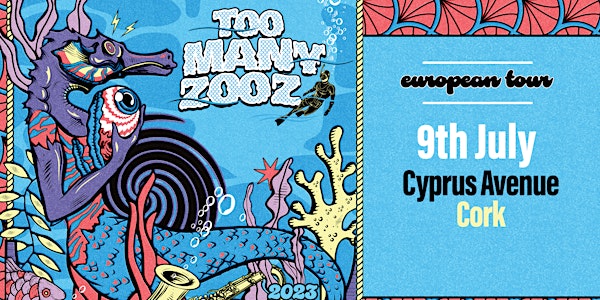 Too Many Zooz
.
By www.cyprusavenue.ie presents
Date and time
Sun, 9 Jul 2023 19:00 - 22:30 IST
Location
Cyprus Avenue Caroline Street Cork Ireland
About this event
3 hours 30 minutes

Mobile eTicket
Self-described "Brass House" trio Too Many Zooz make manically kinetic instrumental music that combines avant-garde jazz, EDM, punk rock, and sundry other traditions into their own distinctive brand of high-energy dance music. A viral sensation since they first emerged as New York subway buskers in 2013, Too Many Zooz have evolved into a globally recognized phenomenon who tour often and produce YouTube videos that have garnered millions of views.
Formed in 2013 in New York City, Too Many Zooz features the talents of baritone saxophonist Leo "Leo P" Pellegrino, trumpeter Matt "Doe" Muirhead, and drummer David "King of Sludge" Parks. Pellegrino and Muirhead initially met while students at the Manhattan School of Music where they studied jazz. They eventually joined forces with percussionist Parks, whom Pellegrino had played with in a separate busking outfit. They began playing live at various New York subway stations and quickly attracted crowds with their aggressive instrumental sound and Pellegrino's ability to dance and hype the audience like a DJ while playing. In 2014, a video of the band went viral and helped set the stage for the group's meteoric rise.
In 2016, the trio released their debut full-length album, Subway Gawdz, which featured guest spots from Kreayshawn, Armani White, members of Galactic, and Beats Antique. That same year they were featured on Beyonce's Lemonade album, and performed with Beyonce and The Dixie Chicks at the CMA's.
Too Many Zooz have continued to release EP's – holiday-themed EP A Very Too Many Zooz Xmas (2018), ZombiEP (2019), a concept album about a fictional band playing a music festival during a zombie outbreak, Covers (2022), Pecking Order (2022), plus collaborations and remixes with The Floozies, Beats Antique, Spencer Ludwig, Moon Hooch, Dot Cromwell, Nitty Scott, Lester London, and RoRo. The band is currently in the studio putting the finishing touches on their sophomore LP.
Frequently asked questions
What time will the show start / end ?
Are there any age restrictions for shows?
I know it's over 18's, but can a child attend if accompanied by an adult?
Is the venue seated or standing?
What about accessibility?
Is there parking available?
The website says X is sold out. Is that really true?
Is it ok to take photos/recordings during the show?
Do you post out physical tickets ?