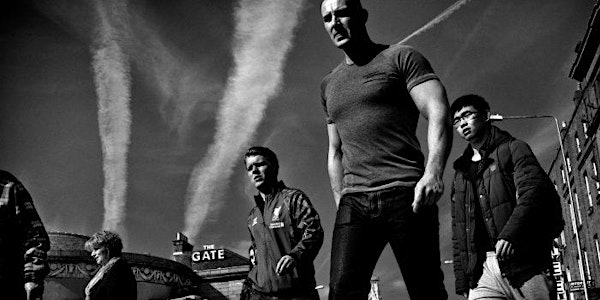 Tour for the Visually Impaired: Eamonn Doyle
When and where
Location
RHA Gallery (Royal Hibernian Academy) 15 Ely Place D02 A213 Dublin Ireland
Description
Join us on Tuesday 2nd of April and visit our current solo exhibition by Eamonn Doyle. This tour for the visually impaired will be led by Emilie Conway and RHA Learning and Public Engagement Curator, Roisin Bohan.
To help us best prepare for the tour, please email engagement@rhagallery.ie and let us know the following:
Is this your first visit to the gallery?
What is your level of vision?
Do you have a guidedog?
Are you able to use the stairs?
Will you be attending with anyone?
How are you arriving?
Any needs or requirements you may have on the day
About the Exhibition
RHA and St. Patrick's Festival are delighted to present a major exhibition EAMONN DOYLE in association with Fundación Mapfre.
Over the past five years, Eamonn Doyle rapidly emerged into the contemporary photographic world with his "Dublin trilogy" — extracts from which were self-published as three acclaimed books; i, ON and End. — and most recently with his new series, K, which he photographed in the west of Ireland and southern Spain. This exhibition at the RHA presents a broad selection of Doyle's work-to-date in his home town for the first time.
When Doyle's work is staged together as a whole, its collective dynamic and sensory drama becomes truly apparent, resonating with music, cinema and theatre. In turn the work manages to break with traditions of photography whilst simultaneously becoming a new eye at the center of the evolution of those traditions.
Doyle studied photography in Dublin, 1987–1991, and though he continued to take photographs for a short period of time after that, it was only when he put down his camera and started to produce and publish music, specifically a unique and influential genre of Dublin-based electronic music, that he began to find his voice. When he picked up a camera again, 20 years after putting it down, he did not go back to where he left off, his camera became another method to continue working with a kind of music, honing in on a beat, on the "movement of people". When he stepped out on to the street that day, camera in hand, it was as if, all this time, he had been setting the stage upon which he would then make his photographic "recordings".
This exhibition also sees the launch of Made in Dublin, published by Thames & Hudson, which brings together the Dublin trilogy plus new and unpublished photographs as one in an exhilarating, cinematic book featuring specially written text vignettes by prize-winning author Kevin Barry.
The exhibition will continue to Fundación Mapfre, Madrid, September 2019.
Born in Dublin, 1969, Eamonn Doyle graduated with a Diploma in Photography from IADT in 1991. He spent much of the next twenty years producing music and working in the independent music business, founding the Dublin Electronic Arts Festival (DEAF) alongside the record labels D1 Recordings and Dead Elvis. He returned to photography in 2008. His debut photobook i, produced in and around the Dublin city center location where he lives, was described by Martin Parr as 'the best street photo book in a decade'.
Image: Eamonn Doyle, ON-01, 2015, UltraChrome pigment photographic print, 160 x 240 cm, Image courtesy of Eamonn Doyle and Michael Hoppen Gallery.