Women in Research Ireland (WIRI) is hosting an honest discussion exploring toxic work environments
About this event
If you are concerned that you are currently working in an unsuitable work place, if you have experienced toxicity at work in the past, or if you want guidance to avoid future unpleasant working atmospheres, join WIRI for this informative and solution-based webinar. Topics discussed will include:
How to define a toxic work environment
Bullying
Racism / microaggressions and its impact on your mental health
Sexism
Systemic flaws that allow toxicity in the workplace
Shame in staying at an unhealthy work place
Tools to cope with work related stress
Creating healthy boundaries for yourself
This event is the first workshop in a 4-part workshop series addressing mental health for researchers, funded by the Royal Society of Chemistry Inclusion and Diversity fund.
Zoom link will be emailed following ticket reservation. Questions are encouraged from attendees via the Zoom Q&A box. Questions can be submitted anonymously.
If you have any alternative requirements (ISL interpretation, etc.), please notify us in advance at womeninresearchireland@gmail.com.
*****************************************************************
Meet the panelists:
Apryll Stalcup is a Professor of Chemical Sciences at Dublin City University. She received a BSc in Chemistry from California State University-Sacramento and her PhD at Georgetown University in Washington, DC. Her PhD studies were supported by a Graduate Student Cooperative Fellowship at the National Institutes of Standards and Technology. Her professional career includes a Postdoctoral Fellowship at the University of Missouri-Rolla and academic appointments at the University of Hawaii-Manoa, the University of Cincinnati and Dublin City University in 2012. Her research specialization is in the area of chemical separations and her contributions to separation science were recognised with the 2021 Chromatography Forum of the Delaware Valley Dal Nogare Award, the 2015 American Microchemical Society A. A. Benedetti-Pichler Award and the Cincinnati Chemist of the Year Award (American Chemical Society, Cincinnati section) in 2011.
She is a Fellow of the Institute of Chemistry of Ireland, the Royal Society of Chemistry, a member of the American Chemical Society, the American Association of the Advancement of Science and Sigma Xi. She currently serves on the Royal Society of Chemistry Analytical Division Council and on the Editorial Board for Journal of Liquid Chromatography and Related Techniques.
Dr. Abiola Muhammed-Ogunfowora received her Doctorate in counselling psychology from Trinity College Dublin and currently offers online therapy at Al-Afia Counselling Services. Her research topic was "Client's experience of Race in Cross-Racial therapy". Prior to her doctorate, she attended the University College of Dublin for her Masters in Psychological Sciences and Bachelor in Psychology. She has years of experience helping individuals find healing and meaning from difficult situations. She is very passionate about making mental health services more accessible. In a bid to achieve this feat, she was part of the team that delivered an alternative report to the United Nations Committee on racial discrimination in Ireland. She also co-founded Racism on the Couch (https://www.racismonthecouch.com/) as a resource for practitioners to address racism more effectively in the therapeutic space.
Subscribe to Women in Research Ireland mailing list here.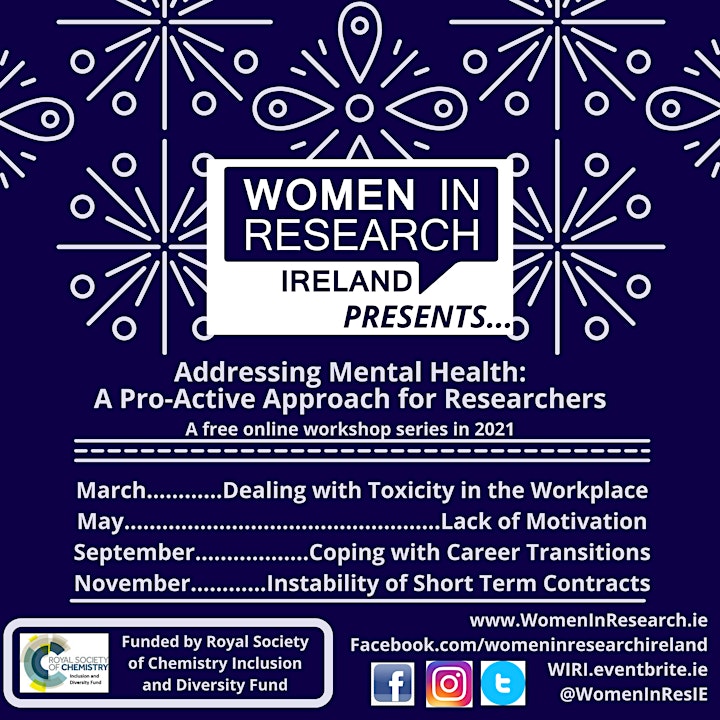 Organiser of Toxicity in the Workplace: A Discussion
Women In Research Ireland is a group for women and other under-represented groups in research and academia in Ireland.
We aim to organise events that are accessible and inclusive:
We will provide physical access information about the venue on the event registration page. If you have additional access requirements (such as Irish Sign Language interpretation), please let us know at womeninresearchireland@gmail.com in advance of the event you wish to attend and we will try to facilitate these to the best of our ability.
All are welcome to our events and we do not tolerate discrimination based on sexuality, ethnic/cultural background, ability, socio-economic status, or any other characteristic. We strive to ensure that our events are always inclusive friendly spaces. 
If you have any suggestions or feedback, or if you would like to get involved in future events (to help organise, or to volunteer as speaker) just get in touch! We would love to hear from you.