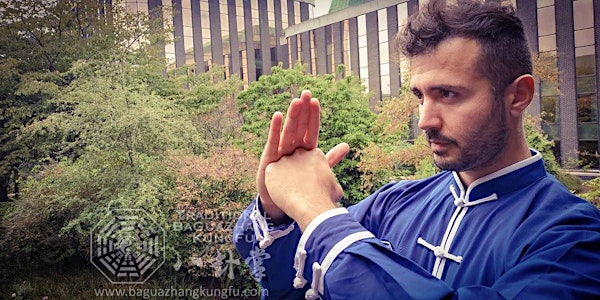 Multiple dates
Traditional BaguaZhang Kung Fu classes - Buy 1 ticket, get one for free
BaGuaZhang is a Chinese martial art that combines the effectiveness in combat with improvements in physical health.
Date and time
Thu, 23 Feb 2023 18:00 - Thu, 29 Jun 2023 19:30 GMT
Location
Common Ground Church Terrace Bray Ireland
Refund Policy
Refunds up to 7 days before event
About this event
BUY 1 TICKET AND GET THE NEXT CLASS FOR FREE, UNLIMITED OFFER ! ;)
Ba Gua Zhang is the greatest treasure of Chinese Kung Fu. It is called "divine style", in Chinese "Tiānxià dì yī quán", which means "the first style on earth".
This class in Bray held by Senior Disciple Gregory Chiesa offers a full-on teaching and practice of all aspects of the style.
Senior Disciple Gregory Chiesa has a 10 years career teaching kung fu in Ireland, Canada and Italy and is a senior member of the Traditional BaguaZhang Kung Fu School with bases across Europe and overseas. The discipline is structured on progressive learning, levels and exams that assess the quality of those who practice it.
The style's peculiar fighting technique (Chuan Zhang) strengthens the joints, bringing health benefits, up to the point that it is also used as an effective method of physical rehabilitation. Every movement is directly related to the ancient Oriental philosophy of the eight trigrams the I-Ching, the Book of Changes. The practice is based on the movements of eight animals, and it is famous because of its circular walk (Zou Zhang), which is the basis for health, fighting and meditation.
Ba Gua Zhang is recommended for people of all ages, beginners and teachers of other martial arts.