This seminar will explore the history, construction and conservation of historic Dublin shop buildings with a leading conservation architect
About this event
CPD Points: 3
Webinar Content
This half-day seminar led by architect James Kelly, Conservation Grade I, will explore the history, construction and use of shop buildings in Dublin in the 18th and 19th centuries through four building case studies that recently involved major conservation and repair works.
Terraced shop buildings comprise the essential building blocks of Dublin's streets and are an intrinsic part of urban fabric across Ireland's towns and cities. Their design, layout and construction, typically consisting of brick and masonry structures with living accommodation over ground floor shops and basements, comprise a distinctive building typology that is rarely the focus of architectural study, spatial assessment for living, or creative property investment.
These buildings also present unique design challenges, often exhibiting evidence of conversion from a former residential use, and periodic structural and decorative adaption to keep pace with fashion and changing tenancies – all of which requires careful assessment to understand and preserve authentic layers while accommodating modern-day requirements. The civic contribution that well-presented and conserved historic shop buildings make to urban amenity and economic life is a critical role in its own right.
In this morning seminar, comprising three 45-minute presentations with opportunities for Q&A, James Kelly will explore the historic evolution, stylistic influences and construction of shop buildings in Dublin during the 18th and early 19th centuries. Through the use of case studies of recent building restorations overseen by Kelly & Cogan, James Kelly will discuss the unique attributes, shared characteristics and conservation design challenges of four historic street buildings including 1 Capel Street, 32 Bachelors Walk and 18 Ormond Quay Upper. One lecture shall comprise a detailed overview of the two-year conservation of the internationally significant Thomas Read's Cutlers of 4 Parliament Street, one of the most intact Georgian shop buildings surviving in Ireland and Britain.
Topics shall include: Retailing history, urban planning, shop and shopfront design, material culture, brick construction and repair, historic joinery and signage, living accommodation, structural repair and intervention, servicing, conservation philosophy.
PROGRAMME
10.00 Welcome & Introduction
10:05 Adapting the city for the consumer age: shops and shopping in 18th and 19th century Dublin
Q&A
11.00 Break
11.10 Case Study 1: Thomas Read's Cutlers, 4 Parliament Street
Q&A
12:05 Break
12.15
Case Study 2: 32 Bachelors Walk
Case Study 3: 18 Ormond Quay
Case Study 4: 1 Capel Street
Q&A
13.15 Close
Speaker Biography
James Kelly, MRIAI, MRIBA, is a Grade I-accredited conservation architect and director of Kelly & Cogan Architects.
James graduated from DIT School of Architecture in 1988 with a Bachelor's Degree in Architectural Science and a Diploma in Architecture. After graduation he worked in England with Wintersgill & Faulkner where he was an associate responsible for the design and construction of a variety of projects. He returned to Ireland in 1993 and formed James Kelly Architects in 1994, continuing in private practice until 1999 when he formed Kelly and Cogan Architects with Denis Cogan, a practice specialising in conservation, housing and urban design based in Dublin's Smithfield.
James holds a particular interest in domestic architecture and urban landscape of the seventeenth and eighteenth centuries, with much of his practice work involving the conservation of buildings from this period. James has sat as an invited member on the National Council of An Taisce and presently sits on the Board of Dublin Civic Trust. He is a member of both the RIAI and RIBA.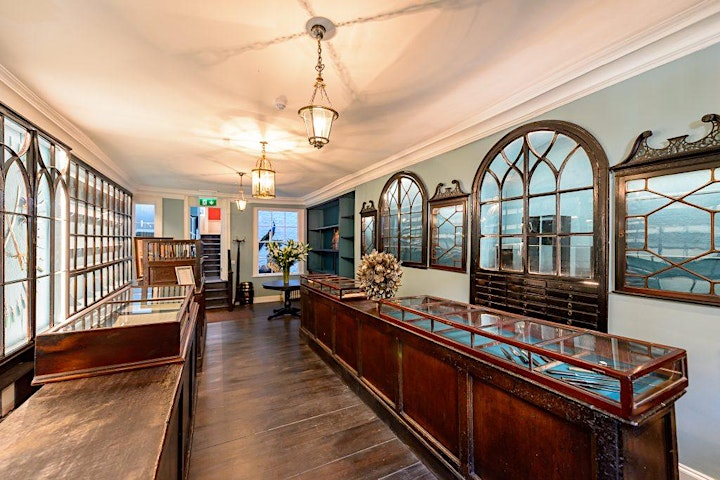 18th-century shop interior of Thomas Read's Cutlers, 4 Parliament Street