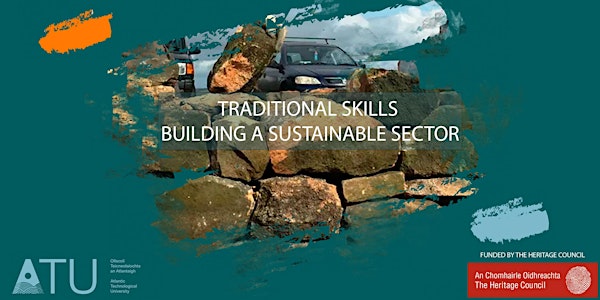 Traditional Skills – Building a Sustainable Sector
Location
Atlantic Technological University
Old Dublin Road
Room 347
Galway
Ireland
FREE PUBLIC SEMINAR ON TRADITIONAL BUILDING SKILLS SECTOR NEEDS IN IRELAND AND OFF SITE WORKSHOP AT THE IRISH WORKHOUSE CENTRE PORTUMNA
About this event
Seminar Detaila - 3rd June - ATU Galway City - Dublin Road. Room 347 - (Note Saturdays workshops are at the Irish Workhouse Centre Portumna)
Location: ATU - Galway City Dublin Road, Galway H91 T8NW - Google Maps
The seminar will take the form of a panel discussion and open forum. The panel includes Barry O'Reilly (Dept. Housing, Local Goverment & Heritage) & Nessa Roche (Dept. Housing, Local Goverment & Heritage), Colm Murray (Heritage Council), Triona Byrne (SPAB), Tom Pollard (Stonemason), Tom Little (Kerry College - Stonemason).
Registration
Registration will open from 9:15, and Tea and Coffee will be served in the foyer outside the main canteen. The seminar will begin at 10:00 in Room 347. This is located on the Ground Floor of the main building. Follow signs to the Canteen, there will be signs posted at main entrances to guide visitors.
Contact : Gary.Dempsey@GMIT.ie with any questions.
Transport
ATU – Galway city support green transport initiatives. The Campus is served by Buses [Route 402 Merlin Park – every 30 minutes] [Route 409 – Parkmore Industrial every 10 minutes approx.] which leave from Eyre Sq and drop on the Dublin Road side of ATU – Galway City directly outside the Library, across from the Regional Garda Headquarters - Bus Time Tables
Cycling
The campus is easily accessible by bike from Galway city c. 15 minutes bike ride. Galway has a number of Bike Share options – Live Map
Pay and Display Parking is provided on Campus for those traveling by Car. The campus is divided into zones for parking, Parking Map
Please note that the practical demonstrations on June 4th will take place in Portumna Co. Galway at the Irish Workhouse Centre. A separate email will follow for that event. If you have registed and do not recive that message please contact me.
ATU HOSTS A FREE PUBLIC SEMINAR ON TRADITIONAL BUILDING SKILLS SECTOR NEEDS IN IRELAND AND OFF SITE WORKSHOP AT THE IRISH WORKHOUSE CENTRE PORTUMNA
A one-day seminar on the needs of the traditional building skills sector in Ireland will be held at Atlantic Technological University, Galway city, on Friday, 3 June, 2022, followed by a workshop and demonstration of traditional skills the following day, Saturday 4 June, at the Irish Workhouse Centre, Portumna. Both events are free and funded by The Heritage Council.
Book Tickets for - Seminar Friday June 3rd - ATU Galway City - Old Dublin Road Galway - H91 T8NW
The seminar on Friday, 3 June, in the Galway International Hotel School, ATU Galway, will be a panel discussion between representative of the Department of Housing, Local Government and Heritage, Society for the Protection of Ancient Buildings (SPAB Ireland) education providers and representatives of the traditional skills sector. It will focus on action points outlined in the recently published report "A Living Tradition: A Strategy to Enhance the Understanding, Minding and Handing on of Our Built Vernacular Heritage - prepared by the Department of Housing, Local Government and Heritage.
The report sets out actions to ensure that vernacular skills are sustainable within the next generation and calls for the involvement of individuals and bodies to analyse the current state and future needs of sector, through public events involving stakeholders, such as these ATU events in June.
Book Tickets for - Workshop Saturday June 4th - Irish Workhouse Centre - St Brigid's Road, Portumna, Galway, H53 EK74
Saturday's event will be a one-day traditional skills workshop aimed at those who wish to upskill or learn more about traditional buildings skills at the Irish Workhouse Centre, Portumna Co Galway. It will include a practical workshop on traditional lime mortars with MATHIEU & MITCHELL LTD, introduction to and mixing of traditional lime mortars, followed by practical demonstration of lime plastering and pointing using natural hydraulic mortars.