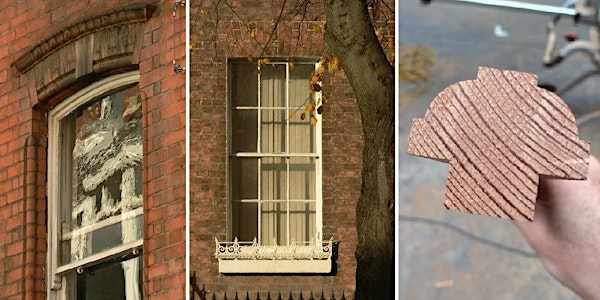 Traditional Timber Windows Webinar: History, Repair and Thermal Upgrading
This morning webinar will explore the history, design and conservation of traditional Irish timber windows with two expert speakers
Refund Policy
Contact the organiser to request a refund.
About this event
CPD Points: 3
Format: Live webinar via Zoom
Recording: A recording of the webinar will be made available for a two-week period to all attendees and to ticket-holders who cannot attend on the day.
WEBINAR CONTENT
This half-day webinar will explore the history, design and conservation of historic Irish windows, with an emphasis on the timber sash tradition, with two expert speakers from academic/technical and joinery trade perspectives.
Windows are an intrinsic part of our historic built environment. Not only do they admit light to interiors and permit views to the outside world, they also comprise the public face of buildings and help shape how facades and entire streetscapes are expressed. Traditional timber windows and Ireland's distinctive joinery tradition is a core part of our national architecture that makes us part of who we are and makes our buildings look the way they do.
This requires understanding of the joinery tradition and careful management of surviving fabric. If the subtle balance of proportion and detail of historic windows is upset or discarded, the harmony and integrity of our wider built heritage can be irreplaceably eroded. However, by understanding the historic evolution of window design, assembly and technology, it becomes possible to appreciate the joys of Ireland's window heritage, making every journey along a road or street a stimulating delight for the eyes. Most importantly, it informs intuitive approaches to repair and conservation, ensuring original fabric and authentic design is retained for future generations.
In two lectures with opportunities for in-depth questions and answers, Nessa Roche will lead attendees through the history and evolution of Irish windows, provincial and vernacular design details. She will explore influences on design and glazing, and discuss approaches to best practice conservation and opportunities for thermal upgrading. Gary Beirne will develop these themes with a focus on common defects, repair techniques, 'combination' windows that utilise multiple materials, painting and decorating, site logistics and glazing. Both lectures will include documentary sources, regional variations, guidance references and multiple case studies.
PROGRAMME
10:00
Welcome & Introduction
10:05
A history of Irish window design, materials and construction – conservation and upgrading
Dr Nessa Roche, Senior Architectural Adviser, Department of Housing, Heritage and Local Government
11:15
Q&A
11:25
Break
11:35
Conservation & Repair Approaches for Traditional Windows
Gary Beirne, Traditional Joiner, Historic Window Restoration
12:45
Q&A
13:00
Close
SPEAKER BIOGRAPHIES
Nessa Roche works as a senior architectural adviser with the Department of Housing, Local Government and Heritage. She holds a PhD in architectural conservation from Heriot-Watt University, Edinburgh on the development of the window in Ireland c.1560-c.1860 and the implications for conservation. Nessa was involved in the preparation and publication of the Architectural Heritage Protection Guidelines for Planning Authorities (2004), and has published several books and booklets including The Legacy of Light: A History of Irish Windows (Wordwell, 1999), and Windows edition of the Advice Series. She has written articles and has lectured widely on historic windows and window glass, fanlights and cabins, including authoring these entries in Volume IV of Art and Architecture of Ireland (Royal Irish Academy, 2015).
Gary Beirne is a skilled joiner and principal of Historic Window Restoration based in Newcastle West, Co. Limerick. The firm provides a window restoration service throughout Ireland using traditional joinery techniques that place strong emphasis on retaining historic material and working with the original window design and fabric. Projects have included the significant refurbishment of Adare Manor in Co. Limerick, Loughton House in Co. Offaly, to churches and thatched cottages. Gary's firm was awarded "Best Specialist Window Restorations Experts" in the 2021 Irish Enterprise Awards and continues to expand its services with an ethos of promoting excellence on conservation practice.