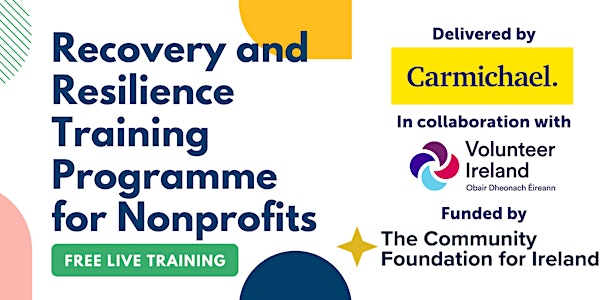 Training - Boards, Chairs and CEOs: Roles, Relationships & Boundaries
FREE training programme on funding, governance and management delivered by Carmichael on behalf of the Community Foundation for Ireland.
About this event
Training workshop: Boards, Chairs and CEOs: Roles, Relationships & Boundaries
Outline:
Roles and responsibilities - Board, CEO, Chair
Governance vs. Management
Division of responsibilities
Communication between CEO and Chair (Board)
HR sub-committee (CEO Selection, Review, Remuneration, Succession Planning)
CEO role in relation to the Board
CEO performance appraisals - how to conduct appropriately
Board only sessions
Code of conduct
Board evaluation (its value and purpose)
Board Dilemmas
Target Audience
For Board Members, Chairpersons and CEOs/Managers of non-profit organisations.
Session delivered via Zoom.
About this programme
Recovery and Resilience Training Programme for Non-Profits
Carmichael are running a series of FREE training workshops for charities and non-profits in Ireland in 2022. These workshops are funded by the Community Foundation for Ireland as part of a wider Covid-19 Fund for Recovery. The Community Foundation for Ireland hopes that this funding will strengthen the skills base of the sector around fundraising, digital, governance and leadership, and build resilience among volunteer and staff teams. In turn, the sector will be in a more resilient position as it recovers stronger from Covid-19.
Registration is open to non-profit board members, staff and volunteers of all participating Volunteer Centres and will be on a first come first serve basis.
A maximum of two people from any one Irish non-profit can register per workshop. The training is limited to two workshops per person.
Carmichael Trainer
Jillian van Turnhout
Jillian van Turnhout has successfully held a variety of leadership roles in Ireland and the EU across business, public affairs and voluntary sectors. She has served as a Director, CEO and Public Representative and has built a strong public reputation for integrity and sound judgement.
Jillian's governance expertise emanates from over twenty-five years serving and chairing Boards and reporting to Boards as a CEO. Jillian is a Chartered Director (IoD UK) and certified in international corporate governance through the INSEAD International Directors Programme and an Institute of Directors Certificate in Company Direction with distinctions in governance, strategy and leadership.
Jillian's current Board work includes serving on the Board of The Arts Council Ireland and Trustee (Director) of One in Four. In addition, Jillian chairs the Governance Committee of One in Four and is a member of the Governance Committee of the World Association of Girl Guides and Girl Scouts (WAGGGS). She is a former Chief Executive of the Children's Rights Alliance; former Vice Chair (Director) of European Movement Ireland; former Chief Commissioner of the Irish Girl Guides; and former President of the National Youth Council of Ireland.
Jillian has been awarded the Chevalier de l'Ordre National du Mérite by the President of France and an Honorary Fellowship by the Royal College of Physicians of Ireland.