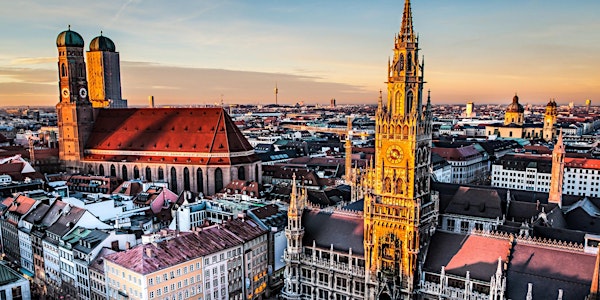 Training Camp for Coordinators of Citizens' Assemblies - Munich
Adventure calling! Join us in Munich for the course for coordinators of citizens' assemblies worldwide.
By Center for Blue Democracy
Date and time
Mon, 19 Jun 2023 10:00 - Wed, 21 Jun 2023 16:30 CEST
Location
EineWeltHaus Schwanthalerstraße 80 80336 München Germany
About this event
2 days 6 hours

Mobile eTicket
What is it
The Training Camp is a comprehensive course for present and future coordinators of citizens' assemblies worldwide. Our experience in supporting and running deliberative processes has taught us many lessons and led us to develop our own, quality-driven, values-based methodology that we would now love to bring to the broader community of practitioners. We envision a world where citizens' assemblies are well designed, held to high quality standards, and executed with confidence, ease, and joy. Capacity building is an essential ingredient of making that happen.
Who is it for
The Training Camp is intended for members of organizations and groups interested in designing and running citizens' assemblies – with or without prior experience. We also happily welcome unaffiliated individuals with a passion for democratic innovation and systemic reform.
Why join
At the Training Camp you have a chance to get to know the step-by-step process of organizing a citizens' assembly according to our latest design thinking. For some of you, it may be a brand new learning experience, for others – it may inform and expand your existing practice. It also serves as an opportunity to meet fellow practitioners and be inspired by the joint wisdom and experience of the group. Beyond the most practical aspects of an assembly process, as well as the values and principles that inspire it, we include a training component focused on personal growth, soft skills, and self-care. We envision a fun, friendly, and informal atmosphere, where learning is supported through open discussions, movement, visuals, group exercises, thought experiments, and more.
The format
The program of the Training Camp is composed of 3 days of an in-person training. During the course, we dive into the what's, why's, and how's of the entire assembly design and coordination process. Our intention is to equip the participants with the maximum amount of knowledge, skills, and attitudes required to run a successful citizens' assembly, according to our methodology. Together, we cover the following topics (among the others):
1) Democratic thinking – What is the value and importance of deliberation and civic empowerment? Quantity vs. quality in democratic processes. Political buy-in in an assembly process. The relationship between democracy and "good governance". And the key question behind the whole process – what is democracy, anyway?
2) Assembly standards and guiding principles – What should be the standards and principles of designing and running citizens' assemblies? How are they integrated into the assembly process at various stages? What role do they play from the standpoint of credibility of the process?
3) Governance structure of the assembly process – Design Team, Coordinating Team, Facilitation Team, and Monitoring Teams – their tasks and relationships between them.
4) Roles within the assembly process – Assembly members, observers, experts, witnesses, stakeholders – their recruitment, rights, and responsibilities.
5) Overview of the assembly process – its stages and timeline – Invitations and random selection, skills training for assembly members, learning phase, deliberative phase, review phase. Creation of the rulebook.
6) Selection of assembly topic – Relationship between Assembly topic and timeline, criteria for selecting an assembly topic, selection process.
7) Establishing the assembly – Size of a citizens' assembly, inviting participants, methods of random selection, transparency of the process, stratification criteria.
8) Skills training how-to – Preparing assembly members for the assembly process, designing mock assembly as an introductory exercise.
9) Learning phase how-to – Identifying experts, communicating with experts, identifying stakeholders, communicating with stakeholders, creating the learning program.
10) Deliberative phase how-to – Principles of deliberation, background information about group processes, background information on facilitating group processes; bringing the best out of the group – empowerment, responsibility and wisdom; reviewing, discussing, and amending proposed recommendations; decision-making and presentation of the outcomes.
11) Promotion and communication – Promotion of the Assembly in traditional and social media, notes on language and means of communication.
12) Follow-up – Implementation of results and oversight.
Additionally: Introduction to emotional analisys and letting go.
Your trainers
Marcin Gerwin, PhD – he is a specialist in deliberative democracy and sustainability. He coordinates the Center for Blue Democracy, an initiative for deliberative democracy with a global range. A political science graduate, the topic of his doctoral dissertation focused on sustainable development in the context of global challenges. He designs citizens' assemblies as well as new forms of democracy. He is an author of "Citizens' Assemblies: Guide to democracy that works", "Deliberative Café: An Easy to Organise Citizens' Asssembly", "Deliberative Democracy: Waldenia Model", "Citizens' Chamber: A Blueprint for New Democracy", and "European Citizens' Assembly: A New Model for Decision-Making".
Zuzanna Nowak – graduated from International Relations with a specialty in diplomacy and consular relations. She's a trained facilitator with over seven years of experience in designing and leading educational/deliberative processes using non-formal methodology. She supports citizens' assemblies in and outside of Poland in various capacities: as an expert advisor, co-designer, facilitator, and more. Her greatest professional joy is to help people feel empowered and meaningful (and to make pretty flipcharts). Privately, she's an artist, a yoga student, and a passionate home cook.
Eva Mackeviča - she is a practitioner with over 5 years of experience in project management, specialising in educational and participatory projects. She coordinated and facilitated citizens' assembly in Poznań, and she is cooperating with the Council of Europe as a process designer in the "Project of Strengthening Participatory Democracy and Human Rights" in Georgia. She is interested in conflict resolution, civic engagement and legal approach to systemic change.
Location
Munich, Germany - EineWeltHaus, Schwanthalerstraße 80, ground floor, the big room.
Language
The entire training program will be conducted in English.
Agenda
19th June, Monday: 10:00 - 16:30 (with 1 hour lunch break)
20th June, Tuesday: 10:00 - 16:30 (with 1 hour lunch break)
21st June, Wednesday: 10:00 - 16:30 (with 1 hour lunch break)
Costs
Participation in the Training Camp is free of charge. Participants are expected to cover their costs of travel and accommodation.
Contact
Email: hello@bluedemocracy.pl