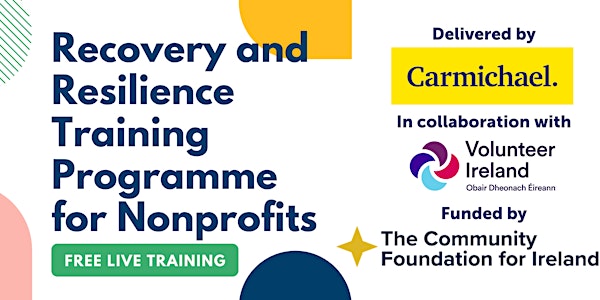 Training - Charities Governance Code
FREE training programme on funding, governance and management delivered by Carmichael on behalf of the Community Foundation for Ireland.
About this event
Training workshop: Charities Governance Code
The Charities Governance Code explains the minimum standards you should meet to effectively manage and control your charity. This workshop will walk you through the requirements of the code including actions and evidence needed to demonstrate compliance. If your organisation has already started or completed the Governance Code for Community, Voluntary and Charitable organisations, it will help you to use the evidence you already have to comply with the new Charities Governance Code.
Target Audience
Trustees, Board members, Chairs, CEOs, and those responsible for governance in their Charity.
Session delivered via Zoom.
About this programme
Recovery and Resilience Training Programme for Non-Profits
Carmichael are running a series of FREE training workshops for charities and non-profits in Ireland in 2022. These workshops are funded by the Community Foundation for Ireland as part of a wider Covid-19 Fund for Recovery. The Community Foundation for Ireland hopes that this funding will strengthen the skills base of the sector around fundraising, digital, governance and leadership, and build resilience among volunteer and staff teams. In turn, the sector will be in a more resilient position as it recovers stronger from Covid-19.
Registration is open to non-profit board members, staff and volunteers of all participating Volunteer Centres and will be on a first come first serve basis.
A maximum of two people from any one Irish non-profit can register per workshop. The training is limited to two workshops per person.
Carmichael Trainer
Marian Barnard
Marian began her career in the pharmaceutical industry in quality management, where she learned early the importance of compliance and internal controls in any industry. This was compounded by 10 years as a director in her local credit union during significant and intense amendments to the prudential requirements of governance in the credit union sector (enacted into law in 2012). This provided Marian with a strong understanding of the evolution and importance of good governance in not-for-profit organisations, as well as the inevitable challenges!
Marian has continued her involvement in the credit union and as training liaison officer for the board and volunteers, she designs, delivers and co-ordinates training on governance, the role of the board, strategy, and other related topics.
In her current role as CEO of a charity, Anew Support Services, which supports pregnant women experiencing homelessness, Marian is actively involved in implementing the governance code, evaluating risk, developing, and writing strategy as well as an array of compliance requirements.
Marian is on the council of Treoir a charity for unmarried parents and she is Chairperson of the National Infertility Support Group (NISIG). Marian has a Masters in Cooperative and Social Enterprise, a Certificate in Charity Law, and a degree in Biochemistry.