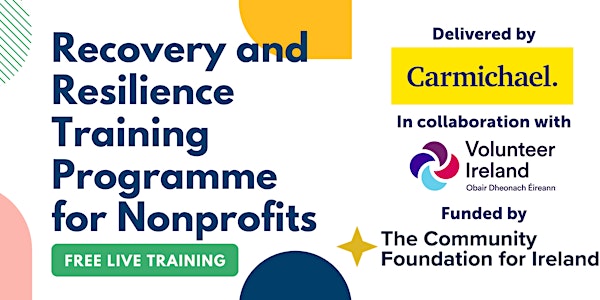 Training - Data Protection and GDPR for Staff
FREE training programme on funding, governance and management delivered by Carmichael on behalf of the Community Foundation for Ireland.
About this event
Training workshop: Data Protection and GDPR for Staff
This interactive workshop will provide the participant with an easy to understand background on the GDPR as well as practical tips on keeping personal data safe and how it should be safely disposed of.
Outcomes:
Knowing what personal data is and what we mean by processing
Understanding the GDPR's principles
Identifying the legal basis for processing
Appreciating the rights of the individual
Keeping data safe and what a data breach looks like
Ensuring safe destruction of data
Comprehending the role of the Data Protection Commission
Target Audience
Administrators or Personnel responsible for data protection.
Session delivered via Google Meet.
About this programme
Recovery and Resilience Training Programme for Non-Profits
Carmichael are running a series of FREE training workshops for charities and non-profits in Ireland in 2022. These workshops are funded by the Community Foundation for Ireland as part of a wider Covid-19 Fund for Recovery. The Community Foundation for Ireland hopes that this funding will strengthen the skills base of the sector around fundraising, digital, governance and leadership, and build resilience among volunteer and staff teams. In turn, the sector will be in a more resilient position as it recovers stronger from Covid-19.
Registration is open to non-profit board members, staff and volunteers of all participating Volunteer Centres and will be on a first come first serve basis.
A maximum of two people from any one Irish non-profit can register per workshop. The training is limited to two workshops per person.
Carmichael Trainer
Liam Lynch
Liam has over 30 years of experience working in IT, originally as a programmer way back in the 80s before moving into networking, infrastructure and security in the 90s. He has worked with people at all levels and has the ability to explain scary technical topics and boring legal subjects in a language that most people can relate to and understand.