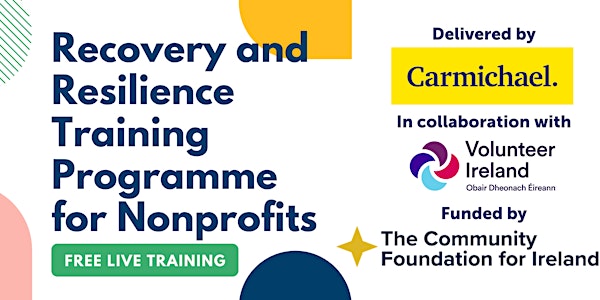 Training - Microsoft 365 - Tips for using MS Office Apps
FREE training programme on funding, governance and management delivered by Carmichael on behalf of the Community Foundation for Ireland.
About this event
Training workshop: Microsoft 365 - Tips for Using MS Office Apps
In this course you will learn productivity tips from the following Microsoft programs:
Outlook
Scheduling emails in advance
How to ignore irrelevant email chains
Cleaning up your inbox
Creating simple rules
Using quick parts
Word
Working with styles
Contents pages
Page breaks
Cover pages Watermarks
Collaborate on a document
Excel
Cleaning data
Separating text from within a cell
Managing your data using grouping
Locking cells
Displaying data visually
PowerPoint
Using slides from another presentation
Changing fonts throughout the entire presentation
Working with images and shapes
Colour considerations
Using the presenter view
Target Audience
Anyone wishing to pick up some productivity tips in the use of MS Word, Excel, PowerPoint and Outlook. Prior knowledge of Microsoft Office/Microsoft 365 is essential.
Session delivered via Zoom. Please note this live session will be recorded and the recording will be shared with all attendees after .
About this programme
Recovery and Resilience Training Programme for Non-Profits
Carmichael are running a series of FREE training workshops for charities and non-profits in Ireland in 2022. These workshops are funded by the Community Foundation for Ireland as part of a wider Covid-19 Fund for Recovery. The Community Foundation for Ireland hopes that this funding will strengthen the skills base of the sector around fundraising, digital, governance and leadership, and build resilience among volunteer and staff teams. In turn, the sector will be in a more resilient position as it recovers stronger from Covid-19.
Registration is open to non-profit board members, staff and volunteers of all participating Volunteer Centres and will be on a first come first serve basis.
A maximum of two people from any one Irish non-profit can register per workshop. The training is limited to two workshops per person.
Carmichael Trainer
Fiona Walsh
Fiona Walsh has worked in a corporate environment for over 20 years, in both the UK and Ireland, working for a range of multinationals. Fiona started her IT training career when she was implementing an ERP system for an R&D department. After designing a training program, she felt it could be improved and embarked on an IT Teacher Training diploma. She then became certified as a Microsoft Master Instructor and began training in Microsoft Office, specializing in PowerPoint and presenting.
Fiona, who also holds a diploma in executive coaching, and set up Imagine Coaching in 2019. She uses her coaching skills to understand her client's needs to ensure they get the best service. She blends her corporate experience with her IT Training to provide a unique experience for groups and 1-2-1 training. The design service focuses on creating branded PowerPoint templates, PowerPoint slides, infographics and presentation makeovers.