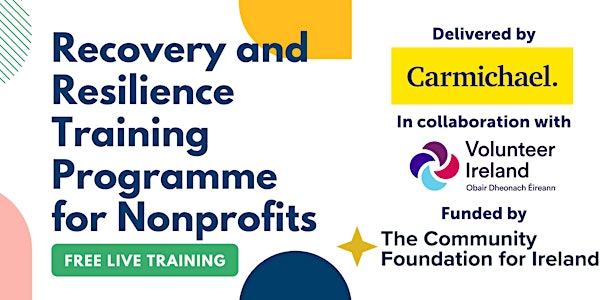 Training - Running an Effective Meeting
FREE training programme on funding, governance and management delivered by Carmichael on behalf of the Community Foundation for Ireland.
Date and time
Thu, 3 Mar 2022 02:00 - 05:00 PST
About this event
Training workshop: Running an Effective Meeting
Organisations need effective meetings, but these do not happen without correct procedures, preparation and planning. This practical workshop provides the tools needed to run and contribute to online and face-to-face meetings. It covers the purpose of meetings; challenging behaviour; agendas; decision-making; and minutes.
Target Audience
For anyone involved in running or participating in board or committee meetings.
Session delivered via Zoom.
About this programme
Recovery and Resilience Training Programme for Non-Profits
Carmichael are running a series of FREE training workshops for charities and non-profits in Ireland in 2022. These workshops are funded by the Community Foundation for Ireland as part of a wider Covid-19 Fund for Recovery. The Community Foundation for Ireland hopes that this funding will strengthen the skills base of the sector around fundraising, digital, governance and leadership, and build resilience among volunteer and staff teams. In turn, the sector will be in a more resilient position as it recovers stronger from Covid-19.
Registration is open to non-profit board members, staff and volunteers of all participating Volunteer Centres and will be on a first come first serve basis.
A maximum of two people from any one non-profit can register per workshop. The training is limited to two workshops per person.
Carmichael Trainer
Donal McKenna
Donal McKenna is a Company Director, Lecturer, Business Coach and Mentor. He specialises in Roles and Responsibilities of Non-profit Boards, Annual Reporting, Marketing, Business Planning, Communications, Governance and Compliance in the Charity Sector.
He holds a Diploma in Corporate Governance from the Corporate Governance Institute (2021). He also holds an MBA from Trinity College Dublin and is currently a Lecturer in Management and Organisation in the Business School, TCD, and is Director and Chair of Care Alliance Ireland, winner of a Good Governance Award 2016, 2017 and 2018.
About the organiser
Carmichael is a leading specialist training and support body for nonprofits in Ireland. With over 25 years' experience based on a foundation of 45 resident organisations we provide expert guidance to nonprofits to support them to become more effective and impactful at what they do. We believe good governance is the beating heart of a healthy nonprofit sector.