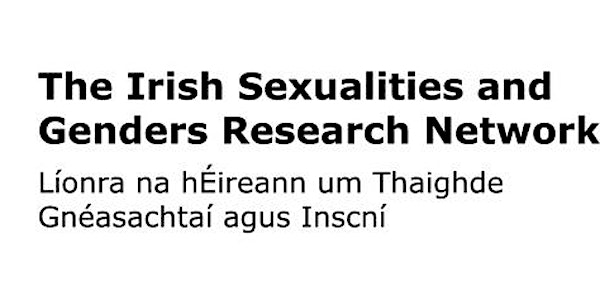 Trans-Inter-Queer - ISGRN Seminar with Dr Eliza Steinbock
"Trans-Inter-Queer: On Three Eras of the Seeable and Sayable in Visual Cultures" - ISGRN seminar with Dr Eliza Steinbock
About this event
The ISGRN welcomes Dr Eliza Steinbock, author of Shimmering Images: Trans Cinema, Embodiment, and the Aesthetics of Change (Duke University Press, 2019).
"Trans-Inter-Queer: On Three Eras of the Seeable and Sayable in Visual Cultures"
In Shimmering Images Eliza Steinbock traces how cinema offers alternative ways to understand gender transitions through a specific aesthetics of change. Drawing on Barthes's idea of the "shimmer" and Foucault's notion of sex as a mirage, the author shows how sex and gender can appear mirage-like on film, an effect they label shimmering. Steinbock applies the concept of shimmering—which delineates change in its emergent form as well as the qualities of transforming bodies, images, and affects—to analyses of films that span time and genre. These include examinations of the fantastic and phantasmagorical shimmerings of sex change in Georges Méliès's nineteenth-century trick films and Lili Elbe's 1931 autobiographical writings and photomontage in Man into Woman. Steinbock also explores more recent documentaries, science fiction, and pornographic and experimental films.
For this talk, Steinbock will discuss how across three different eras for the seeable and sayable (the legible visuality and intelligible discourses) the interlocking relationships of trans-inter-queer mutate. Tracking these kaleidoscopic shifts illuminates the limit cases for trans arrival vis-à-vis intersex morphology and queer sexuality and therefore also the pressure points for elaborating a trans politic within visual cultures.​
The event will take place online via Zoom. The Zoom details will be sent to registered attendees via Eventbrite in advance of the event.
All attendees must agree to follow the ISGRN online events policy which is available to read on our website.
For further details of other upcoming seminars in the ISGRN Spring 2021 Seminar Series, follow our Twitter account!