Transforming Problem Based Learning with Technology - 21st Century Learning
Description
Transforming Problem Based Learning with Technology - 21st Century Learning
Keynote speaker: Dr Woei Hung, University of North Dakota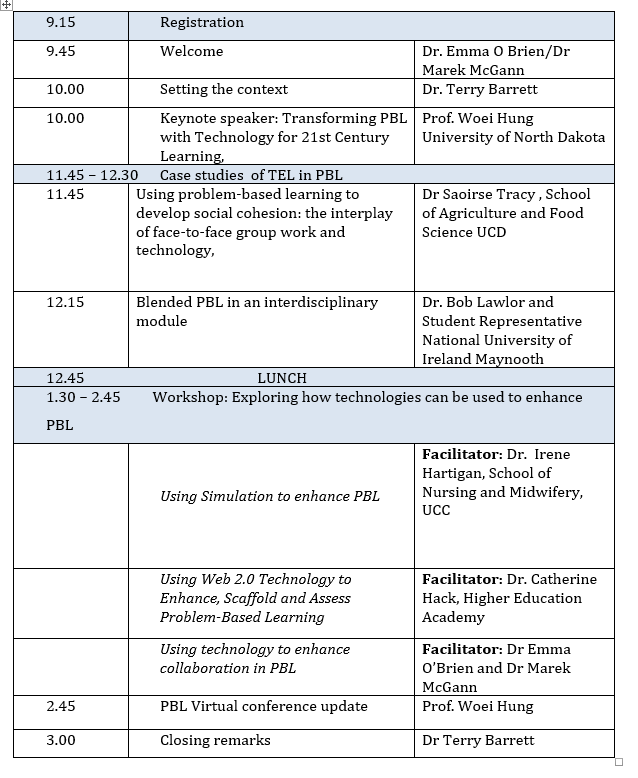 In future work environments skills such as team work, communication, entrepreneurship, innovation, intercultural skills, and problem solving are vital (Eurobarometer, 2010; Davidson, 2016; EU, 2010). The EU have categorised many of these as key skills, which will form the basis to develop more complex competencies "necessary to drive creativity and innovation" and "cope with complexity and uncertainty" in a 'fast evolving workplace' (EU, 2016). In particular, competencies to enable problem solving in technology rich environments are in demand with only 30% of adults having sufficient skills to "evaluate problems and find solutions" (OECD, 2013; Frey et al 2016;OECD 2015). To address emerging skills needs the EU are advocating learning that is cross-disciplinary, inquiry-based, and work based (EU 2018).
Research has illustrated the effectiveness of problem- and inquiry-based learning in developing skills in problem solving and critical thinking (Hmelo, 1998; Gallagher, Sepien, & Rosenthal, 1992) .
Within PBL technology can be used to enhance collaborative work, foster communication, and allow students to exchange materials outside of PBL tutorial groups (Mclinden et al, 2006;Donnelly, 2010). Cho and Jonessan (2002) found that online forums provided more in-depth collaboration and facilitated the transfer of knowledge to the problem trigger. In some studies, it was found that online PBL collaboration resulted in improved student performance (Ozdemir, 2005).
The proposed seminar will provide HEI staff with an improved understanding and awareness of the fit between technology and the tasks associated with problem based learning, and support them in adopting these into their teaching. (Hung, 2006)