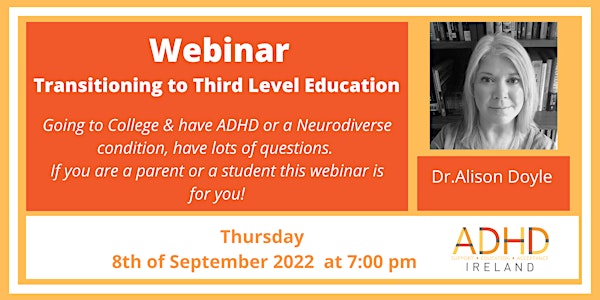 Transitioning to Third Level Education With Alison Doyle!
Going to College & have ADHD or a Neurodiverse condition, have lots of questions, if you are a parent or a student this webinar is for you!
About this event
Dr.Alison Doyle in collaboration with ADHD Ireland will be hosting a webinar, 'Starting your Student Journey: A Conversation about Transitioning to Third Level Education'.
This event will take place on Thursday 8th September at 7.00pm via Zoom.
There will be an hours information webinar followed by questions and answers session where you get to ask Alison about the issues that affect you and your college journey. We wish you all good luck wherever your journey is starting!
Bio:
Dr Alison Doyle has practiced as a teacher, School Principal, and Educational Psychologist across primary, secondary, and higher education contexts internationally for almost 40 years. She has a particular practice and research interest in supporting young people with neurodiverse conditions to manage the transition from school to college and employment. Alison is also a part-time lecturer to postgraduate programmes within the Institute of Child Education and Psychology, Dublin City University, and Trinity College Dublin. She is a member of the Association of Educational Psychologists (UK), the British Psychological Society, the Association for Child and Adolescent Mental Health, and the Psychological Society of Ireland.
http://www.caerus.ie/