Translating Neurological Research into Clinical Practice
Description
This conference, hosted by FutureNeuro, the SFI Research Centre for Chronic and Rare Neurological Diseases, brings clinical neurologists, registrars, specialist nurses, NGO's, patient representitives and researchers, together to address the most relevant research questions in the treatment of neurological diseases.
The conference will:
Highlight the most recent breakthroughs in neurological research
Create a shared understanding of the national clinical research agenda
Spark new collaborations between research and clinical groups
If you wish to invite a colleague, please email Linda Coyne: lindacoyne@rcsi.ie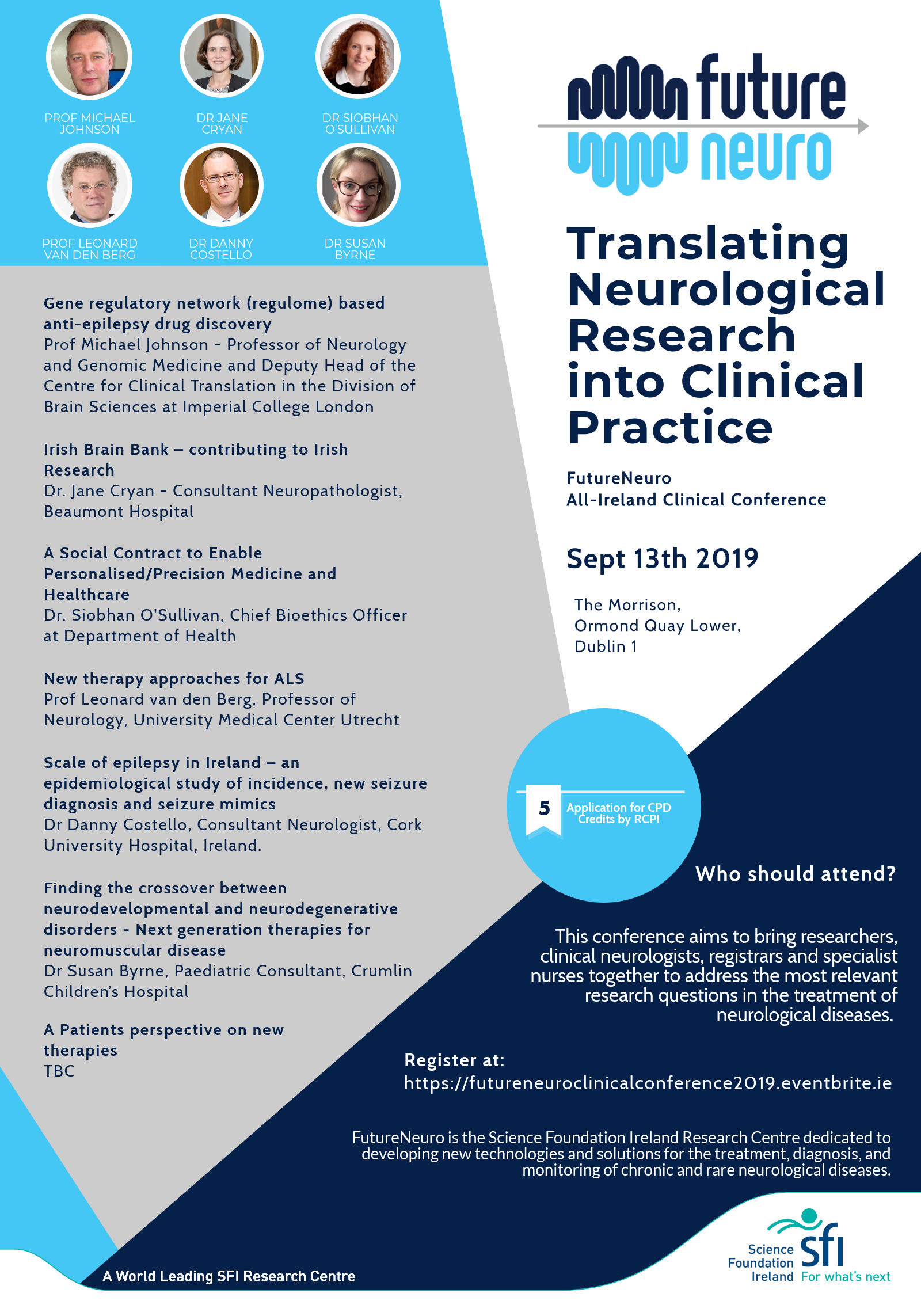 Key Speakers
Gene regulatory network (regulome) based anti-epilepsy drug discovery - Prof Michael Johnson - Professor of Neurology and Genomic Medicine and Deputy Head of the Centre for Clinical Translation in the Division of Brain Sciences at Imperial College London
Irish Brain Bank – contributing to Irish Research - Dr. Jane Cryan - Consultant Neuropathologist, Beaumont Hospital.
A Social Contract to Enable Personalised/Precision Medicine and Healthcare - Dr. Siobhan O'Sullivan, Chief Bioethics Officer at Department of Health
New therapy approaches for ALS - Prof Leonard van den Berg, Professor of Neurology, University Medical Center Utrecht.
Scale of epilepsy in Ireland – an epidemiological study of incidence, new seizure diagnosis and seizure mimics - Prof Danny Costello, Consultant Neurologist, Cork University Hospital, Ireland.
Finding the crossover between neurodevelopmental and neurodegenerative disorders - Next generation therapies for neuromuscular disease - Dr Susan Byrne, Paediatric Consultant, Crumlin Children's Hospital
A Patients perspective on new therapies (TBC)
It will take place on Friday 13th of September in The Morrison Hotel, Ormond Quay which is only 10 minutes from main train lines.